Annexations heighten deer problems
Elvyn J. Jones - ejones@newsmwc.com
Elvyn J. Jones
ejones@newsmwc.com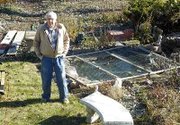 The back deck of Charles Nichols' Corliss Road home has a breathtaking view of the Kansas River and Cedar Creek valleys. When the retired Baptist minister started seeing deer on his 4.5 acres, he thought they were a great addition to the setting.
Nichols has long since lost the joy of seeing deer. The animals that initially added to the rustic setting have become pests.
Even in mid-December, the effort and joy Charles' wife, Colleen, a master gardener, puts into their yard is evident. Brown husks indicate the carefully laid out plantings that were last summer's brilliant displays in the raised flower beds, amid the statuary and in the water pond.
"We have a lot of different lilies that come up," Nichols said. "They are pretty expensive plants. The deer ate them like ice cream. They ate all the blossoms.
"We planted 20 tomato plants this year and 20 pepper plants. I did not get one tomato because they ate all the blossoms. We used to get so many tomatoes, we canned them."
Nichols said he and his wife had tried numerous recommended remedies to manage the depredation inflicted by the half dozen deer that visit their homestead. They've scattered cocoa beans, which have a taste deer supposedly don't like. They planted tall ornamental grasses because the effect of wind through the stands were supposed to scare the deer.
"It didn't make a bit of difference," Nichols said.
Nichols finally came to two solutions. The couple could build a high fence around their property, which they couldn't afford, or they could ask the city for help.
In November, Nichols asked the De Soto City Council for a deer depredation license on his property. The city has granted such licenses for bow hunting before, but those were for larger parcels of property used for commercial purposes.
Council members expressed several reservations about expanding the practice. There was concern a wounded deer would escape from smaller properties, threatening neighbors. Council members also worried about ricocheting arrows.
Still, noting that Olathe had recently agreed to allow in-city bow hunting, the Council asked City Attorney Patrick Reavey to look into the issue further.
The effort has the endorsement of Andy Friesen of the Kansas Department of Wildlife and Parks. Deer populations were exploding along the Kansas River from the Kansas City metropolitan area west to Lawrence, he said. The increase was noticeable enough that the Wildlife Department made a special designation for the area to allow hunters to take added deer during the season.
The area had the cover and food deer need to thrive, Friesen said. There were no predators save hunters and, increasingly, vehicles, he said.
To make things worse, annexations have removed hunters from the list of controls for much of northeastern Johnson County. With the Sunflower Army Ammunition Plant, there were more than 15 square miles of open land in or near De Soto that was never hunted, he said.
"These deer have gotten locked up in city limits," he said. "As long as their needs for water, food and shelter are met, there is really no pressure on the population."
Friesen, who will attend the Council's Jan. 6 meeting to discuss deer management issues, said it was his hope De Soto would adopt a program like that of Leavenworth. That city adopted an ordinance this year that established a city archery season for deer from Oct. 1 through Feb. 1, he said.
The program allowed participating landowners with 3.5 or more contiguous acres to allow hunting on their property during the state archery season, Friesen said. Hunters, too, had to sign up with the city and take a class, he said.
"They've done a tremendous amount of work to get property owners and hunters lined up," he said. "It's worked really well for us, too. I've been able to track every deer taken there."
The Leavenworth program required hunters to take a doe first on the theory that since deer often had twins one arrow would eliminate three deer, Friesen said.
In addition, Friesen said he would advocate a deer depredation program like Nichols requested. The program would allow bow hunting for a longer designated season on the property of landowners with a permit, he said.
Nothing short of proper fencing would prevent deer from being a problem, Friesen said. But a regular season and a depredation program would produce results over time if enough property owners participated, he said.
Without some management measure, there was a fear the deer population would expand to its "carrying load," or the maximum population the environment would allow, Friesen said. At that point, the animals would become prone to disease, starvation and less predictable behavior, he said.
The Leavenworth program had another feature the Council might like, Friesen said. City hunting licenses had made it an income producer for the city, he said.
De Soto would offer an ideal hunting opportunity for bow hunters on the Kansas side of the metropolitan area, Friesen said.
Looking at an ornamental bush with its bark picked clean, Nichols said he hoped Friesen's appeal would sway the Council.
"If I do get a permit, a part of me would feel sad to see them shot," he said. "I just don't know what else to do."