Award-winning Hileman teaches a room full of history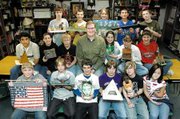 Keil Hileman can see his classroom door from the tall, lazily spinning 1920s barber chair where he often sits to teach.
From there, he likes to watch people's faces -- mostly visitors and sixth-graders -- when they walk into his room for the first time.
Model helicopters, Chinese lanterns, newspaper articles and a wooden pterodactyl cling to the ceiling. International dolls and homemade castles teeter atop a valuable antique piano; and a ceiling-high stack of boxy old steamer trunks is crammed between a case full of knick-knacks and a vintage gas stove.
History closes in on anyone who steps inside.
Hileman, a De Soto resident and self-described "crazy guy with stuff in his room," teaches an exploratory class called Museum Connections at Monticello Trails Middle School and is De Soto USD 232's award-winning teacher of the moment. He said networking with teachers from across the country has reminded him how lucky he was to have what he called the perfect job.
"This is the dream class -- this is the way you and I wished we learned history," Hileman said during a recent meeting of his eighth-grade hour. "No textbook, no worksheets. You watch videos, you touch artifacts. We touch history."
The "Museum" is Hileman's classroom. "Connections" come in the form of video clips, in-class presentations and hands-on inspections of artifacts, which range from student-crafted cardboard projects to antebellum antiques.
Students make their own text-notebooks as they go, compiling articles, photos, notes and timelines.
Max Carrol, an eighth-grader, said Hileman kept class entertaining.
"It's pretty fun," Carrol said. "You always get to do something different in his class."
The classroom decor, distracting at first, eventually begins to blend in, Carrol said.
"Well, it's my third year, so I've seen the room before," he said. "After a whole year, you kind of got used to it."
Hileman said touching history taught the subject like nothing else could.
Some of his most poignant lessons are enhanced by things like a Nazi banner from World War II -- it still smells like gunpowder -- and a 250-year-old slave caller.
"That is just an awful, horrible thing," Hileman said of the wooden whistle. "Every time a kid touches that, it reminds us what a horrible thing slavery is, which is a wonderful thing."
Recent teaching awards put Hileman on the map and caught him a little off-guard.
"It's very awkward to get onto the Internet, type in your name and find, like, 85 hits," he said. "Now that my name's out there, it just keeps going and going."
Two weeks ago, Hileman traveled to Washington, D.C., to be recognized at a gala for Horace Mann award winners. That honor made him one of five national finalists for the National Education Association Foundation Award for Teaching Excellence.
In addition to various smaller highlights, he was the 2004 Kansas Teacher of the Year and one of four finalists for National Teacher of the Year, said to be the highest honor a teacher can receive.
Hileman, 36, described himself as a "baby" in the circuit of national award-hopping teachers. Many teachers are nearing retirement by the time they get the same kind of accolades.
Hileman credits being in the right place at the right time for his recognition. After meeting many teachers from around the country, he realizes now more than ever that supportive principals, abundant resources and adequate facilities make his unique class possible, he said.
"I've been very blessed," he said. "I would never have been able to create what I've created in many of the districts, even in Kansas."
Hileman hopes to see his museum grow, both larger and more organized. Someday, when he retires, Hileman's dream is to pass the reins to a former-student-turned-history teacher.
Neil Grindel, a Mill Valley High School senior and Museum Connections alum, said Hileman's door was always open to former students, whether they wanted to be history teachers or not.
Grindel, who hopes to study architecture in college, stopped by Hileman's class Thursday for a little career advice; Hileman's not an architect, but he knows people who are. The teacher lends artifacts to students who need them for high school projects, Grindel said, and he is always friendly.
"Even if you see him in the halls, he remembers you," Grindel said. "And he always tries to be the first person to greet you."