Erisman displays pin-manship on way to gold in Eudora tournament
One by one they fell.
One ranked wrestler after another succumbed to the intensity, quickness and experience that De Soto junior Neil Erisman brings to every wrestling match.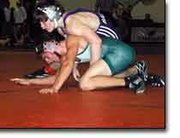 Counting Erisman, there were six ranked grapplers competing in his weight class at the 24-team Eudora invitational. He pinned four of them on his way to the top of the medal stand. In doing so, Erisman helped De Soto finish 14th with 122.5 points.
The 152-pounder tuned up for the championship match by dominating Blue Valley's Brad Harris (fifth in 5A), Baldwin's Josiah Mason (fifth in 4A), and Lawrence Free State's K.J. Siebert (third in 6A).
Erisman then teased Mill Valley's E.J. Johanson, the second-ranked grappler in 5A, into the second round before finishing him off with a pin. In all, the two-time state medalist earned seven pins in seven decisions Friday and Saturday.
"Neil wrestled very well," Wildcats coach Matt Jones said. "He was very dominating. He pinned everybody in the first round except for Johanson."
Erisman wasn't the only Wildcat tested last weekend. Brandon Hurt also faced a tough field in the 119-pound weight class.
The senior, who compiled a 3-3 record during the meet, grappled his way to a seventh-place finish in a weight class that included Blue Valley's Tyler Madle (third in 5A).
The tough slate Hurt has faced so far this season has given Jones an opportunity to assess Erisman's progress in the senior's final season.
"I think he's ahead of last year," the second-year coach said. "We just need to work on some little things. We need to get him some more mat time, and he'll improve every time out."
Adam Faircloth and Alex Mercer also won more than they lost in helping the Wildcats rack up points. Faircloth (140 pounds) went 4-2 on his way to a fourth-place finish, while Mercer pinned Blue Valley's Cody Scribner in the third-place match and compiled a 5-1 mark.
"There weren't any surprises Saturday," Jones said. "The kids that were expected to do well did do well."
Other grapplers competing at the tournament for De Soto were Jacob Rupe (0-3) at 125 pounds, Aaron Hanson (0-3) at 145 pounds, Matt Below (0-3) at 189 pounds and Bryan Roddy (1-2) at 275 pounds.
Erisman wrestled at 160 pounds in a Dec. 9 double dual at Gardner-Edgerton. Despite the two wins he earned, De Soto fell 48-36 to Gardner Edgerton and 50-30 to Blue Valley West. The Wildcats had to give up 36 points in each dual because of six open classes.
"We knew we were going to be at a big disadvantage," Jones said. "So our goal was to out-wrestle our opponents in the head-to-head matches."
The Wildcats were able to accomplish the feat after they compiled an 11-6 mark in the two matches. Joining Erisman as undefeated wrestlers at the meet were Roddy (275), Mercer (215), Leif Goleman (189) and Faircloth (140).
Hurt split his two matches at the double dual, while Rupe (125) and Hanson (152) lost both of their matches. Freshman Tom Beaver saw his first taste of varsity action in the 171-pound weight class.
Although he lost the only match in which he competed, the freshman's toughness earned his coach's praise.
"We asked him to go out, be aggressive and wrestle hard," the coach said. "And he did."
The Wildcats will take to the mats at 3 p.m. Friday for the Johnson County Classic at Blue Valley High School. Action begins at 9 a.m. Saturday in the two-day tournament.
More like this story