Maasen in the middle
Wildcat senior's dedicated off-season has him ready for senior campaign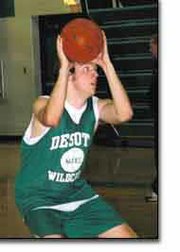 Although last season's gut-wrenching, near-upset of Piper in the Lansing 4A sub-state semifinals was the end of the road for some De Soto basketball players. But it was just the beginning of one for another.
Now, that previously little-used Wildcat is hoping to cash in on a big season after a grueling off-season of preparation.
Brett Maasen, a six-foot, five-inch senior, couldn't help but take notice of the emotions running through the lockerroom after last year's 66-55 overtime loss to the Pirates.
"Guys were in tears," Maasen recalled. "Everybody was so emotional. Some of the guys were saying to me, 'It's your time now.'"
Those words never left Maasen. In fact, he said this year's entire team remembered them well.
"We talk about it almost everynday," he said. "I learned so much from that senior class last year. They were amazing."
Maasen's turnaround wasn't just the direct result of last year's seniors, however. Wildcat basketball coach Jason Generally got into the act as well following that memorable loss.
"He told me he wanted a full year out of me," Maasen said. "So I promised him that I would give that to him. I worked my tail off and decided to see what I could do with my last year."
After hours in the gym and dozens of basketball games last summer, Maasen is starting to see his hard work pay dividends. Not only has he become bigger and stronger, but he's also developed a lethal shot from mid to long range as well as a nice jump hook.
"It's really hard to put into words how far he has come," Generally said. "He wasn't real athletic and wasn't real quick afoot before this season. But he has made himself into a very good athlete."
Maasen has also put long hours into improving his defense on big guys in the low post.
"You have to use your elbows and not get caught," he said. "I've also learned how to get in better position down low. You have to be thinking one pass ahead all of the time."
With his improved athletic ability, the first-year starter looks to take advantage of his 6-5 frame and hit the boards hard when the Wildcats open the season Tuesday at the Central Heights Tournament. But he doesn't want to limit his role to just a couple of facets of the game.
Maasen said he wanted to help the Wildcats win any way he could. Whether it's stepping out and popping a three-pointer, playing solid defense, or getting that rebound and lacing a perfectly thrown outlet pass to an open teammate, he wants to win basketball games.
Although the basketball part of his life has been a struggle at times, Maasen has always had a knack for getting a laugh.
"He's extremely fun to talk to," Generally said. "He's very funny, very witty. But he always seems to know when to be serious and when to crack up and joke around."
The Wildcat coach recalled telling Maasen, Danny Brown, Hunter Noe and Taylor Burnett that they would have to be able to dunk a ball at the beginning of this season if they wanted to play on varsity.
For the other three athletes. the feat was a done deal. But when Maasen attempted his first stuff he came up about a half inch short and got hung up on the rim. After his second miss, Maasen retrieved a loose volleyball from across the gym floor.
His first attempt was long. But after kicking the ball halfway across the court, Maasen's second try was true to form.
"It's a long season," Maasen said. "I just try to make practice fun and try to pick people up. I try to encourage people."
Maasen sees a big season in store for the Wildcats in 2004-2005. In fact, he agreed with Generally that anything short of a state tournament appearance would be a disappointment this season.
"This is the most skilled team that we've had at De Soto in my time here," the senior said. "We've been preparing for this season since last year. There is no reason we shouldn't make it (to state). We want to do it for Coach."
More like this story