Ready to kick it
Players have championship on their minds
Last season, Mike Murphy made almost all of the right moves in guiding De Soto to the Kansas 4A State High School soccer championship game.
And Murphy, who every year plays a game of chess as he shuffles players around, appears to have that same kind of talent in 2004.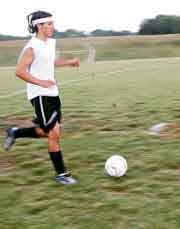 "It was just a fun ride," the coach said of his team's near-miss season, which ended with a 2-1 overtime loss to Andover in the championship. "Looking back, everybody was pretty proud of what we accomplished. But some of the kids still feel as if we have some business that we didn't quite finish."
The fourth-year coach has a solid core of seniors to go along with another influx of young talent. Throw in a little will and desire, and the Wildcats are set to make another run at league and post-season success.
"As long as there is a state championship, we want to get it," Murphy said. "We believe in setting high expectations for ourselves. If we don't get them, we don't get them. But we have to try."
De Soto lost the offensive production of Jesse Smith, who is now playing soccer at Johnson County Community College. But Murphy promised to fix that question mark with a score-by-committee solution this season.
Although he expects other players to step up as well, Murphy will rely on the offensive prowess of senior Jordan Hevel and Kyle Bray and freshman Zach England.
Hevel was a runner-up last year to Smith in points (29) and goals scored (10). He was Murphy's top assist guy with nine.
"Jordan is rather quiet," Murphy said. "But if he comes through and meets our expectations, we will go places. He's all about soccer."
Bray is the second-leading Wildcat scorer returning. He muscled in six goals and had a pair of assists as a junior.
Murphy said Bray could be a scorer and boasted of his speed. But he warned the senior could sometimes get a little carried away.
"He puts his body into dangerous positions sometimes," Murphy said. "I love to watch that kind of play, but I need him healthy, too."
The newcomer, England, has tremendous upside, Murphy said. The youngster played soccer all his life and was expected to be a vital part of the Wildcat offense during his debut campaign, the coach said.
"He's as skilled as any other offensive player I've had," Murphy said. "He's not as big and strong, but his ball skills can make up for any lack of speed and strength."
The De Soto coach said England reminded him somewhat of Hevel.
"He's smart and understands the team concept," Murphy said. "Out in space he can either pass, go with the ball or cross. He should be pretty solid for us."
Sean Karashin finished last season with an impressive resume in goal. He climbed to second in school goalkeeper shut-outs for a career with 10.
He also made the top four in shut-outs for a season in 2002 and 2003. Both years he held five opponents without a single goal.
Stepping up to fill in for the graduated Karashin are junior Ben Smith and senior Richard Tillery. So far Murphy has been pleased with the progress of both athletes.
Although not all of the positions have been filled yet, Murphy expected to put Ben Moon at the sweeper spot, and Lance Williams will begin the season at stopper. Others ready to step up and get playing time are forward Spike Delapena and Brady Seaman.
Right now, Murphy said the offense was ahead of the defense.
"By season's end we'll have the defense figured out," Murphy said. "The season is always a work in progress."
The Wildcats will enter their first season of play in the Frontier League in 2004. Unfortunately, there are just five league teams, which does not justify having a league tournament.
But the Wildcats will be in the running for the league regular season title and will be battle-tested. They will play each conference foe twice, giving them eight league games.
Ottawa (5A) is probably the strongest team in the league and has done very well in the past. They are a physical team with size and strength.
De Soto, 16-5 a year ago and 50-23-3 under Murphy's guidance, starts the season with a 5:30 p.m. game Friday at home against Basehor-Linwood.
More like this story