Resurrecting the glory days
Upstart local youth football league looking for sponsorships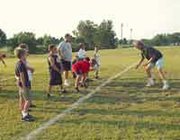 The whole community would benefit if the De Soto High School football team returned to its glory days of the early 1980s, say those organizing a new youth football league.
"A strong football program in our high school is a marvelous asset to our community," according to a press release sent out by the newly formed De Soto Youth Football Club. "The town bathed in the glory of 'Friday Night Lights' draws patrons to our businesses, attention to our town, and instills pride within our community."
Pete Buffkin said he and other organizers of DYFC were taking that message to businesses and individuals in the De Soto area with the hope of finding sponsors for the fledgling sports league. It costs about $280 to outfit a youngster for contact football, he said. With 100 kids expected to participate, $5,000 would be needed, he said.
The other side of the enterprise is recruiting youngsters from kindergarten through sixth grade to play in the two levels of competition the DYFC offers. Although there is a little league football program in De Soto, it has never attained the level of participation DYFC representatives hope to achieve.
"We've had little league football here for some time now," third-grade coach Buffkin said Monday. "But it's always been more of a hodge-podge of teams here and there. We want to get organized and work with the high school and middle schools on this."
In order to prepare future Wildcat players for middle school and high school, several program organizers attended Wildcat football coach Brad Scott's summer youth football camps.
"Coach Scott and his staff have supported us 110 percent," Buffkin stated. "Some of our coaches attended his youth camps so we could pick up on some of his practice routines as well as some drills and techniques."
The league will allow kindergartners and first-graders from De Soto to play flag football through the Olathe YMCA and will provide an opportunity for second- through sixth-graders to play tackle football in the Kaw Valley League. Besides the usual towns that are members of the KVL, teams are also thought to be forming in Ottawa and Belton, Mo.
League play is set to begin with a full slate of games Sept. 11 at the Field of Dreams in Basehor and will run through October. Buffkin thought the games would begin mid morning Saturdays and continue until about 3 p.m.
De Soto has also been guaranteed two weekends in which they will be the host for the games. For Buffkin that meant a boost to the De Soto economy.
"It will be a day-long event," Buffkin said. "People have to eat, drink and get gas, so those games will afford local businesses opportunities they otherwise wouldn't have.
The final league standings will be used to determine seedings for the league championship tournament at the end of the year. A tournament at the Field of Dreams will kick off the season Labor Day weekend.
Buffkin said games would have eight-minute quarters, with the older age-group teams playing closer to the same rules that the Kansas high schools do. Third-, fourth- and fifth-graders will have the luxury of having a coach on the field at all times, while sixth-graders have to go it alone.
After coaching a sixth-grade team in previous years, Buffkin decided to take over a third-grade team last year. Realizing the kids he was teaching were just 9 years old, the coach decided he didn't want to overload their minds with too much razzle dazzle, so he installed an offense that included plays designed to go up the middle or around the ends.
He soon realized the kids knew more than he thought they did.
"I thought I was doing the right thing," he said. "But most of the teams we played were running reverses and using other trick plays."
Buffkin said the league now had about 75 players, with the average team having about 16 to 19 players. He was quick to point out that the league was still looking for more players.
With any such endeavor, there is always a need for financial support. Buffkin said each player would average about $300 in expenses, so the organization is looking for sponsors.
"We want to help every player that competes in the league," Buffkin said. "We help families that can't afford the cost, so we're exploring scholarships through the league. We want to open up as many avenues for each kid."
For more information, call Roger Templin at 583-1806 or Buffkin at 583-1180.