Goleman tells defense to bring it
Leif Goleman welcomes being a marked Wildcat this fall.
But he warned that he won't be the one feeling the pain when contact was made between him and any defensive player who just happens to get in his way.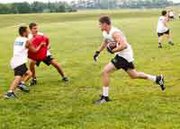 "When a defensive player comes after me he'd better make sure he makes the tackle," Goleman said. "I know I don't want to feel the pain, so I'm going to lay it on him first. I want to make him think twice before he decides that he wants to make the tackle again."
Goleman, who would like to rush for 1,500 to 2,000 yards this year, wasn't always in a position to be so brash. Three years ago, he was a lanky, scrawny freshman that was just happy to get playing time on defense.
"My freshman year I was too skinny," said Goleman, who weighed 145 at that time. "I would have been folded in half."
Like most players he had to bide his time behind another player with more experience. In the case of Goleman, he had to wait in the shadows of former Wildcat standout tailback Michael Allen.
Allen has since gone on to play for Liberty University in Lynchburg, Va., opening the door for Goleman, who rushed for nearly 900 yards a year ago.
"He was huge and fast," Goleman said of his former peer and mentor. "Coach (Brad) Scott found a way to get the ball in his hands. I just tried to make the best of my time when I got in the game on defense."
Although both backs have had success in De Soto, Goleman quickly noted they were also different types of backs.
"Obviously, he weighed more than I do," Goleman said."I do think we both had deceptive speed, but he ran between the tackles more. I'm more of an outside runner. I like to juke linebackers and stiff-arm defensive backs."
The returning second-team Kaw Valley offensive back won't be treading his way over Kaw Valley defenders anymore. Instead, he'll be churning out yards for the Wildcats in the Frontier League.
"We're going to see a whole different football atmosphere," Goleman said. "We went and watched Osawatomie in the playoffs last fall because we heard they'd be our opening opponent.
"They run the option very well and return most of their skilled people from a year ago. I'm not sure what they return on their line, but their skill people should be excellent."
Goleman would like to see the Wildcats continue one recent trend.
"It's been a constant for us these past two seasons to increase our win total by two from the year before," he said. "I could easily see us winning seven games or even nine games and qualifying for the state playoffs."
Goleman said the Wildcats would concentrate on defense more in fall camp than they have in recent years, especially since they would like to rely on their defense to be a part of their offense.
"We want to make sure that we can score at least one touchdown a game on defense," Goleman said. "If they don't score, then we don't lose."
Goleman also discussed the importance of the word "finish" that adorned the team's T-shirts in last week's camp. In past years, the Wildcats would get off to fast starts in the win column only to watch it dwindle away.
The only difference from those years to this year is that Goleman is ready to shoulder the load.