Making joyful noise
Yodeling contestants spread smiles with variable notes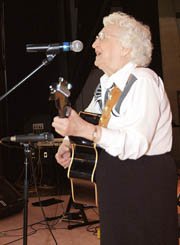 After seven decades of yodeling, Arlene Barb learned a new lesson about the art form Saturday at the Kansas Oldtime Fiddlers, Pickers and Singers state convention at the De Soto Convention Center.
Barb, the first of three contestants in the yodeling competition, had to rush from one of the convention's jam rooms to get to the stage. The race to the microphone left her a "little out of breath," causing difficulty in sustaining the long high note of Cowboy's Sweetheart" and "Nightrider's Lament."
""I've been yodeling since I was little," she said. "I must have learned when I heard Jimmie Rodgers when I was young in the early '30s. When I was not too old, neighbors would come over to hear me yodel.
"A lot of people love it, but not too many try it."
Rich Blanton, president of the De Soto Chapter of the Kansas Oldtime FPS, said yodeling wasn't something all singers could do.
"It's a skill," he said. "I don't know if you can really teach yodeling. The best someone can do is describe it."
Cloyce Thornton of Emporia said yodeling might take a unique talent, but it was one some musicians would recognize in themselves.
"If you have a gift and hear somebody else do it, you think, 'I can do that,'" he said.
Thornton said he started yodeling when asked to do a "Western thing" at a school.
"I've been doing it ever since," he said. "It was just pleasing to the audience."
The contest's third competitor, Gary Marquadt of Kansas City, Kan., said his approach to yodeling was "Why not?"
Yodeling originated in the Swiss Alps as a way neighbors communicated at distances in the mountains. Thornton said it blended with the fiddle music Irish emigrants brought to the United States, becoming very popular during the 1930s and 40s, when cowboy singers like Roy Rogers and Gene Autry joined yodeling specialists such as Elton Britt.
Yodeling has declined in popularity since that time, but Barb, Thorton and Marquadt said it always put a smile on faces in the audience.
"I'm having fun, and the audience seems to like it," Marquadt said.
More like this story