Home track proves friendly to Wildcat teams
Boys second, girls third in De Soto High School Invitational track meet Tuesday at district stadium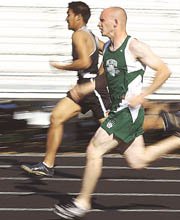 Jackie Goleman continued to impress on a rapidly improving De Soto High School girls track team.
The freshman had a hand in 28 points of the Wildcats' 125 points at Tuesday's De Soto Invitational. Chris McAfee's squad earned a a third-place finish behind Mill Valley (133) and Gardner-Edgerton (129).
"That's awesome," McAfee said. "I thought we'd be close (to the top), but figured we'd be somewhere in the top half. Finishing second to two 5A schools -- we're pretty happy to be right there with them."
Goleman was a key figure in the final results after she took first in the 300-meter hurdles with a personal best time of 50.61 seconds. She also finished fifth in the 100 hurdles (17.75) and third in the high jump (4 feet, 10 inches).
Goleman also teamed with Lauren Karnitz, Carrie Wilbert and Katie Beck on the first-place 1,600 relay team.
Lisa Lambert and Morgan Frehe were also gold medal winners in their specialty events.
Lambert is starting to feel comfortable with her new form as she whipped the javelin past the 121-foot mark. It was her best effort of the season.
Frehe out-kicked her competitors to the tape in the 3,200, winning by nearly 10 seconds over Mill Valley's Amber Keith. Frehe clocked in at 12:32.8.
Earning silver medals on the day were the 3,200-meter relay team (10:56.1) and Carrie Wilbert in the mile. Wilbert finished eight seconds behind a Maranatha runner with a clocking of 5:56.4.
The throwers relay also took second in a time of 1:00.8.
Becca Davis and Frehe also took home third-place medals. Davis threw the discus 85-11, while Frehe clocked 5:56.8 in the mile to help give De Soto 15 points in the event.
One of the surprises on the day was Lauren Karnitz, who took third in the 400 with 1:06 and fourth in the 200 in 28.53 seconds.
As for the boys, Casey Johnson and Pete Crall racked up tons of points, helping the Wildcats to 95 points and a distant second place to Gardner-Edgerton (140.5).
Johnson won both the 800 (2:07.4) and the mile (4:33.1). As impressive as his day was, McAfee said he thought Johnson could knock his mile time down to around 4:15.
"If he would train the way I'd like him to, he could still improve on his time," McAfee said. "And he just beat two of the better runners in the state today."
McAfee was referring to Aaron Ballew of Gardner-Edgerton (second, 4:34.3) and Mill Valley's Jay Matlack (third, 4:39.9).
Johnson also placed second in the 400 meters in a time of 54.1.
Crall, who has eased into the track season because of a knee injury suffered last summer, is starting to get back to hisold form. The senior won both hurdle events. He clocked in at 15.12 seconds in the 110 hurdles and 41.68 in the 300 hurdles.
Crall also finished fifth in the high jump, clearing the bar at 6-0 for the first time this year.
Blake Lindbloom handled some of the heavy-duty work by placing in both the shot put and discus. He placed fourth in both events after throwing the shot 42-5 1/2 and the discus 117-10.
De Soto collected 10 points in the pole vault when Bryan Buser (12-0) and Luke Young (10-6) placed third and fourth, respectively.
The thrower's relay took home medals and a cake for winning in a time of 51.11.
Josh Oberhelman placed third in the 400 with a time of 54.21, and the 1,600 relay team took bronze in a time of 3:40 to round out the top three medals.
De Soto continues its season Friday at the Blazer Invitational in Gardner. The field events are scheduled to start at 3:30 p.m.
More like this story