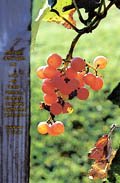 Rose Burgweger hardly expected rural De Soto to be spiritually or artistically inspiring when she and her husband first moved to the area from downtown Chicago four years ago. But the winding creek, open pastures and stately trees near their home on Cedar Creek Road have since proved otherwise.
"You know the phrase 'bloom where you're planted?,'" she said. "Well, I guess I'm doing that."
Burgweger and fellow De Soto resident Carrie Dvorak will display a combination of nature photography and scripture this month at De Soto City Hall, 32905 W. 84th St. Both are in the beginning stages of developing their own lines of inspirational greeting cards and prints. The results, which will be installed beginning Monday, include many photographs literally taken in the artists' own back yards.
Burgweger took advantage of changing clouds, seasonal snow and dramatic mists to transform scenes around her home from everyday to ethereal.
"This was right across the street: That's the tree out there in the winter, and this is our driveway with our oak tree," Burgweger said, pointing to scenes outside various windows and a collection of photographs on her kitchen table.
"Walking Through Scripture," the title of her card and print line, began when Burgweger added photography to a collection of comforting Bible verses she compiled after 9-11. Burgweger said she hoped to show that God walked with people during hard times in their lives by combining photographs with similarly-themed scripture.
Dvorak, whose theme is "The Nature of God," said she hoped her work would show viewers both the beauty of nature as well as what God is like.
"I just hope that it will be meaningful to people and will be enjoyable for them when they're in City Hall," she said.
With rotating displays including everything from modern art to quilting, City Hall provided a venue for all kinds of art, said exhibit coordinator Diana Zwahlen.
"I'm a lover of the arts, and I think that art always enhances our community," she said. "It lets our community know that the arts are important and vital in our society."
More like this story