Practicing real hair care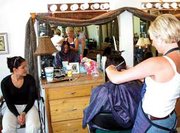 Sitting in Sophisti-Cuts in downtown De Soto on a recent Saturday morning, Tia Bernard nervously thumbed through a magazine of short hairstyles with her sister Tiffany, looking for the one that would be right for her.
Bernard was preparing for her first new look in 11 years. She had already made the decision her long, curly hair was to be cropped. The motivation was the Locks of Love Foundation, which provides wigs for children who have lost their hair from a rare medical condition called alopecia areata.
"I just thought of it one day," she said. "I've got so much to be thankful for. I thought I should give something back."
Bernard is a 2001 De Soto High School graduate now going to Johnson County Community College and working as a teacher's aide in the Monticello Trails' Bridges program. Bernard said she also hoped the hair donation would inspire her students.
Even with the best of intentions, the decision wasn't without anxiety, especially in the minutes before she took a seat in the beauty shop chair of Amy Miller. Last minute worries she'd look too "motherly" were dispelled by Miller. The stylist also praised Bernard's donation.
"I think it's a wonderful idea," she said. "I've thought about doing it before, but the timing wasn't right."
After 30 minutes in the chair, Bernard emerged from the shop with new a look and an envelope containing a 12-inch braid ready to mail to Locks for Love.
"I like it better than I thought," she said. "It's great if it can help others in need when I really don't need it."
For more information on the Locks of Love Foundation, visit www.locksoflove.org.