A small voice for the Chiefs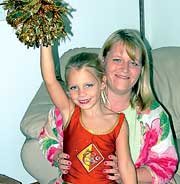 Performing in front of 70,000 people would intimidate most anyone, especially a 6-year-old girl.
"Yeah, it was scary," said Rachel Parish of her recent experience during the Kansas City Chiefs preseason halftime show.
As Rachel spoke, her mother, Kim, was shaking her head in disagreement.
"No," she said. "She's not a bit shy."
The young De Soto girl is one of 152 Chiefs junior cheerleaders. She and the other girls in the program performed two dances at the preseason game and will do an encore halftime performance Oct. 5 during the Chiefs game against the Denver Broncos.
Kim and Rachel travel to the Chiefs' indoor practice facility near Arrowhead Stadium once a week to work with Chiefs cheerleaders on their routines. Rachel said she was one of six girls working with a cheerleader named Brandy.
The girls get more than the halftime spotlight and a spiffy outfit from the experience. Kim said the weekly instruction also included lessons on poise and good manners.
"She's learning to be part of a team," she said. "The other thing is the instruction in poise and manners. That's just a good thing. Nobody teaches that anymore."
Rachel admitted she wasn't learning much from the dance routines. She mastered much harder routines during her three years of dance classes, she said.
That was to be expected, given the large number of junior cheerleaders, Kim said. Not that she knew much of what went on at the practices. A rule was enforced in an effort to make weekly lessons more effective.
"Parents are not allowed in," she said. "I can see why. I try to be real good."
This is the first year for the program, Kim said. There was no selection process for participation in the junior cheerleaders other than a willingness to participate and a commitment to attend practices, Kim said. That might change next year. Rachel was eligible to be a junior cheerleader in 2004, but Kim said it was uncertain if her daughter would participate.
"We'll have to consider it with other opportunities," she said. "It's a long drive to Arrowhead."