Stirring up a tradition
Culinary arts students prepare first community dinner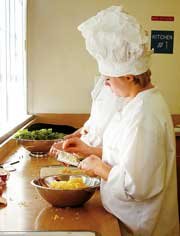 Ripe with smells of roasting red peppers, garlic and cilantro, Eudora's vocational education center smelled more like a restaurant than a classroom Oct. 15.
The handful of culinary arts students were preparing items for the debut of the Red Card Cafe Oct. 16. The program is part of a vocational education cooperative the De Soto and Eudora school districts established this year.
Coming from the red invitations students handed out, the name spurred mild protest from the program's De Soto students who had images of Eudora's red Cardinal theme. But it's a name instructor Jason Gray hopes will catch on for the program's monthly dinners, the first of which is Thursday night.
As Gray navigated students through the prep work that included roasting peppers, pre-boiling pasta, and grating cheese, he bragged about Jackie Tyree. For her turn as hostess, the Eudora High School student not only created the menu, but she also had to compile a shopping list and do the math to make the recipes feed the nearly 40 diners. Perusing cookbooks helped her out, she said.
"I saw a picture of it and said, 'Yeah, that looks good,'" she said while holding red peppers with tongs over the flame of a gas stove.
Neither Tyree nor fellow culinary arts students Kasey Place and Casey Allen, both from De Soto High School, said they were nervous about serving their first dinner.
"We all work in the restaurant industry," Place said.
Allen added, "We all know how it works, although we'd rather be the customer than the worker."
Like a true restaurant scenario, the students spent Oct. 14 and 15 doing prep work for the meal that some of them cooked Oct. 16 in table-of-four increments. The other students served, and Tyree seated and welcomed the diners.
Alex Wylie from De Soto High School said in addition to inviting parents and community members, the class also extended a welcome to area school administrators and freshmen and sophomores who might be interested in joining the program.
Gray said he already had requests from people wanting to get in on future dinners -- which will include buffet, English, French and Russian serving styles -- that also serve as fund-raisers.
"I hope it catches on, and I hope there's a tradition that will be started," he said.
As students tired of grating cheese or chopping ingredients and begged Gray to let them switch duties, the instructor reminded them that in a restaurant chefs don't always get to take a break, switch duties, or eat when they want to. Even though they may feel hunger pangs cooking and serving dinner Thursday night, running the "restaurant" would mean postponing sampling their own creations.
By providing a realistic restaurant experience, the program gave students an opportunity to decide whether pursuing culinary arts in college or in work was desirable, Gray said. Only after he spent time studying to be a chef did he realize he liked the restaurant industry but would rather manage than cook, he said.
"Had I had something like this in high school, I maybe wouldn't have done that," he said.
Students who stuck with culinary arts had careers open to them, ranging from managing fast food restaurants to continuing their culinary education.
"It's a good profession," Gray said. "There's good money and good benefits. You're serving a really good purpose -- people are always going to go out to eat."
Since the opening of the vocational center in August, the culinary arts classroom has undergone treatment, including curtains and some fresh coats of paint, the red and blue colors of which sparked the ire of the De Soto students, who should be happy with green table cloths. Gray said he hoped to have the classroom looking more like a restaurant for the first dinner.
"You get my desk out of here and some tablecloths on, you'd be amazed," he said.
More like this story