Wilbert, Johnson lead the pack at Eudora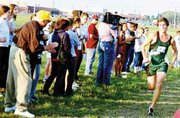 Casey Johnson and Carrie Wilbert gave several schools from the Frontier League something to consider last Thursday at the Eudora Invitational cross country meet.
Both runners competed against teams from Gardner-Edgerton, Eudora, Wellsville, Louisburg and Spring Hill and gave those teams a preview of what life will be like when the Wildcats become familiar faces.
"This was a good change of pace for us," said De Soto coach Chris McAfee. "We ran against some schools we don't normally see. In addition, we ran against a lot of schools from the Frontier League, which we are joining next season."
Wilbert paced the girls to a second-place finish with 67 points by winning the first meet of her career. Eighth-ranked Eudora finished ahead of the Wildcats with 65 points, while McLouth came in third with 98 tallies.
Wilbert's win came a week after she struggled at the Miege Invitational.
"Last week she wasn't ready to run," McAfee said of the sophomore. "This week she was ready, and the results were much different. I think she is finally figuring herself out."
Following a fast first half mile, Eudora's Brittney Graff tried to separate herself from the pack. Wilbert followed suit but allowed Graff to set the pace. The sophomore, who finished the race in a time of 12 minutes, 50 seconds, then made the race interesting by letting Graff, taking a 10-meter lead in the final 400 meters.
"I told her at that point no one was going to catch her from behind," McAfee said, "and to go ahead and start her kick."
Wilbert obliged her coach and caught Graff at the tape.
Freshman Morgan Frehe also finished in the top 10 with a seventh-best clocking of 13:18. Melissa Roberts (16th, 13:34) also medaled for the Wildcats.
Katie James (24th, 13:58) beat the 14-minute mark, and Sarah Jokisch, who is battling tendonitis in the knees, also ran for De Soto.
Johnson won for the second week in a row contributing to De Soto's second-place finish with 67 points. Gardner-Edgerton, the sixth-ranked team in 5A, finished in first with 31. Eudora finished third with 110.
Except for a brief portion of the race, Johnson led from start to finish. Gardner-Edgerton's Aaron Ballew took a several stride lead at about the 600-meter mark, but Johnson's kick surpassed Ballew as the Wildcat junior caught and passed him, winning by four seconds.
"Casey has a great kick," McAfee said, "but he still needs to keep contact over the last half mile. He has lost contact with people a lot over the last half mile. Sometimes he has been able to use his kick to catch them, and sometimes he has let them get too far away."
Donnie Gardner (6th, 17:35) and Tanner McNamara (10th, 18:22) both earned medals after placing in the top 10. Chris Peterson also medalled after placing 19th in a time of 19-minutes, 1-second.
Matt Woywod (31st, 19:55) and Adam Wilcox (40th, 20:21) also ran for the Wildcats at Eudora.
De Soto next competes at the Kaw Valley League meet 4:30 p.m. Thursday at Santa Fe Trail.