Cat tennis aces march on with 1,2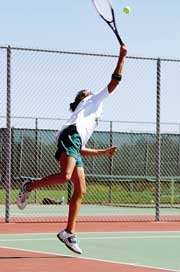 Whether it had just lost a match or is down by a couple of games, De Soto's tennis team has proven time and time again that it is capable of crawling back into a match this season.
That characteristic snuck up and bit the opposition again last Thursday at the Bonner Springs Round Robin Invitational Tournament, yet another of the tournaments that coach Michael Sullivan's Wildcats have conquered this season.
"Overall, it was another great tournament for the girls," the coach said. "Another team title is a compliment to how hard these girls have been working. They are really competing.
"Even when they are finding themselves down a couple of games, they are showing that they can battle back."
Stacy Davis and Bianca Gonzalez proved once again just how relentless this group of Wildcats is.
Down 7-3 in the championship match to Topeka Seaman's Javie Evans and Gesa Engbert, the No. 1 doubles team scratched and clawed its way back for a 9-8 (8-6) win.
"Stacy and Bianca had the gutsiest performance that I've seen since I have been coaching," Sullivan said. "Coming back to win a championship match in a tie-breaker was awesome. I was very proud of that."
To get to the finals, Davis and Gonzalez had to defeat Leavenworth's Alicia Wedd and Brianna Ferguson 9-7; Evans and Engbert 8-5; and Lindsey Gestelman and Kylie Garman 8-0 in pool play.
They then dispatched of Gardner-Edgerton's Julie Fridlington and Heather Sipes 8-4 in the semifinals of medal-round play.
Meanwhile, Lauren Hampton dominated the No. 1 singles competition on her way to another individual championship. In running her tournament record to 5-0 Hampton knocked off Leavenworth's Natalie Harper 8-2; Seaman's Chelsea Hopkins 8-5; and Baldwin's Andrea Hamilton 8-0; in pool play.
Hampton then subdued Bonner Springs' Judith Plumb 8-1 in the semifinals and Hopkins (8-3) again in the finals.
The round-robin format gave Hampton an opportunity to test her skills against players with differing styles -- something that should help her should she make it to the state tournament.
"Lauren is playing extremely well this year," Sullivan said. "Each of the players she played in this tournament was a different type of player -- from one who tried to push the ball, to another who tried to hit the ball hard with Lauren."
Sullivan said that Hampton was learning to use her strengths to defeat different kinds of players.
"That is probably the biggest difference she has made as a sophomore from last season," he said.
Alex Prosser continued to impress Sullivan with her court demeanor on her way to a third-place finish in No. 2 singles.
The freshman defeated Leavenworth's Jessica Mulvaney, 8-1; Seaman's Nikki Wayant (score not available) and Baldwin's Kristen Ferris 8-3 in pool play action.
She then lost to Olathe East's Brooke Brutto, 8-6, in the semifinals, before dispatching Ferris 8-3 in the third-place match.
The No. 2 doubles team of Cassie and Emily Garza finished the tournament with a 3-2 mark and third place.
They opened the tournament with a pool play win of 8-5 over Michaela McCann and Mary Melton of Leavenworth.
After falling to Seaman's team of Jenny Maier and Mindy Stiess by an 8-6 count, the pair then mounted a comeback, winning over Baldwin and slipping into th e medal-round action.
They lost to Olathe East's Molly Flanigan and Valerie Tourbutton by an 8-6 count in the semifinals, and then took third place honors with an 8-6 win over Maier and Stiess again.
De Soto plays Monday at Regionals.
More like this story