Thanksgiving spirit
USD

232 community service curriculum makes holiday generosity yearlong effort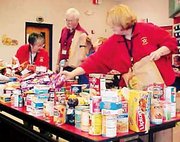 Jodi Hitchcock toils daily to provide for individuals and families in De Soto and northwest Johnson County. As a coordinator for the De Soto Multi-Service Center, she depends solely on donations to keep the center's food pantry stocked.
"We are not like Harvesters," she said. "We're here in the community, so we rely on people in the community to keep us going year 'round," Hitchcock said.
One of the biggest sources of support continues to be the schools in the community. Hitchcock said support from all USD 232 schools had been amazing, not just during the holiday season but throughout the entire year.
"The schools are the biggest supporters of our food programs," she said. "We work closely with the social workers at schools to identify family needs. A lot of times there are crisis for families in the community that call for several different entities to resolve them."
In the past year, Mill Valley High School, Lexington Trails Middle School, Starside Elementary, Mize Elementary, Riverview Elementary and Woodsonia Kindergarten have all conducted food or toy drives for the center.
"When they started community services classes at the middle school and high school level that really helped raise awareness," Hitchcock said. "The involvement continues to grow. Everyone at the schools displays a tremendous amount of concern for all of the kids in the community."
Curriculum at the middle school and high school level began incorporating the lessons of community service almost a decade ago. Mark Peck teaches the sociology of community service at Mill Valley High School. The class covers units focusing on social issues such as poverty, aging and physical and mental ailments. Recently, he took his students to a Veteran's Administration facility in Kansas City to witness some of the problems people face close to home.
"I wanted to give students a chance to see the poverty issue that exists in the area," Peck said. "You only get a few opportunities to show them what the problems are ailing people here."
Mill Valley's food drive this year for the center has been the best Peck can recall in his time at Mill Valley. In addition to his classroom teachings, Peck has observed a wealth of community-based activities that encourage him.
At Mize Elementary, Principal Lowell Martinie looked forward to seeing the showcase window at the school's front entrance overflowing with gifts by next month. One of Mize's student groups, the HAWK Service Team, is one of the many district student groups fully involved with efforts to collect donations for the De Soto center. The elementary schools have been busy with canned food drives the past few weeks.
Paula Henderson at Starside Elementary said the school's students recently surpassed 4,500 cans during the two-week collection period.
"There's a commitment here at school and district wide to personal responsibility, and part of that talks about the importance of helping your community," Henderson said.
At Monticello Trails Middle School, almost 1,200 cans were sent to the Johnson County Christmas Bureau. Additionally, a project called "Winter Warmth" has collected coats, hats and other winter clothing for families in the community. At Lexington Trails Middle School, Julie Beuthien's students are busy wrapping boxes to hold food gifts, raking leaves and cleaning yards for senior citizens, and lending a hand to food and blanket drives.
"I want their community work to serve as field research for what they are learning in class," Beuthien said. "They draft proposals and write reports to document exactly what they are doing."
Students have received regular visits from figures in the community to explain the importance of service in the community. Jason McAninch, a De Soto High School student, told the students about completing a service project to become an Eagle Scout. Mayor Dave Anderson has talked to students about his campaign, the role of community service, and explained what his responsibilities were as mayor so that the kids would be better able to complete a writing assignment: "If I were mayor, I would . . ."
The commitment from both sides of the school district is what has made several service programs the successful. Like Peck, chemistry and physics teacher Jana Lloyd works with students in National Honor Society to deliver meals to senior citizens. This week, she watched as the students prepare turkey dinners and pumpkin pies to be delivered in time for Thanksgiving.
"Students such as those in NHS are required to do service, but it's still something they are taking there time to do away from school," Lloyd said. "They have their other after-school activities they do but still manage to find time to do this."
The historical ties between the De Soto schools and community service goes beyond student involvement. Hitchcock said the faculty and staff's longstanding commitment has set an example to students of the importance of community involvement.
"The staff at the schools always make sure that families in crisis are taken care of during the holidays," Hitchcock said. "I remember seeing Sharon Zoellner years ago, delivering school supplies and then turkeys at Thanksgiving. They really understand that the community caring starts with them and isn't just for students."