New faces to help De Soto High School girls
Wildcats hope to build on 16-win season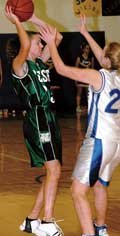 Losing three starters can often be the cause of many sleepless nights for a basketball coach. But that's not the case for De Soto coach Dwight Spencer.
It's not that losing Julie Beck, Emily Holton and Katie Davis didn't leave any holes, because they did. Spencer has, however, received reinforcements during the off-season.
Freshman Kira Gonzalez and transfers junior Amy Petty (five feet, seven inches) and senior Leslie Klemansky (5-4) will be called on to play right away.
Petty transferred from Buhler, where she played for her grandfather, who won six state championships before retiring after last season.
"She will be able to score a little for us," Spencer said. "She also knows the game very well."
Klemansky will play on the perimeter and will be called on to do a variety of things for the Wildcats, while Gonzalez is expected to step in at the point despite her youth.
"She has played a lot of basketball," Spencer said of the freshman. "Barring anything unexpected, we expect her to take over the point for us."
Besides the three newcomers, Spencer looks forward to the five letter winners and two starters he has coming back from last year's team, which set a record with 16 wins.
Seniors Allie Heinen and Lisa Lambert are the returning starters. Becca Davis, Laurie Wilson and Emily Baker were key reserves.
Heinen (5-11) was the leading scorer for the Wildcats during the 2002-03 season. Her coach expects her to pull the trigger again.
"She will be one of the top two players in the league again this year, if not the best player," Spencer said. "She also presents a definite defensive presence in every game on our schedule."
Lambert is an aggressive player who can also shoot, Spencer said. She also has the ability to play any position on the court -- even the post.
Davis gives De Soto some added size inside. The 5-11 junior has been working on her footwork in the off-season and is a legitimate inside threat.
Seniors Wilson and Baker are both considered excellent shooters who should give the Wildcats several offensive options.
"I don't see us having a lot of holes in our lineup," Spencer said. "We're in a position where we have one or two players who can score from anywhere on the floor. That puts a lot of pressure on a defense."
The Wildcats should be a good rebounding team again this year. With the size Heinen and Davis give their coach inside and strong rebounders on the wings, De Soto should win that battle most nights out.
Spencer looked to press in order to get easy points this year. Then, when the opportunity arises, the Wildcats will push the ball.
"We have several kids that can handle the ball this year," the coach said. "We relied on Julie (Beck) last year, but Kira (Gonzalez) will do fine. There may be occasions this season when we have four or five players on the court at one time who can push the ball."
The only disappointment Spencer has seen from his team during early practices was its inability to fire crisp passes. But he expects his team to improve in that area as the year goes on.
Spencer has set the same three goals he lays out for the team every year.
De Soto will attempt to win its first game and then take them one at a time once the season has started. Ideally, the attitude will allow the Wildcats to command the Kaw Valley League and win the sub-state championship.
"They are the same goals we set every year," he said. "We set our goals high. If we don't have those kind of goals we won't ever reach them."