High hopes
Boys pave path to state meet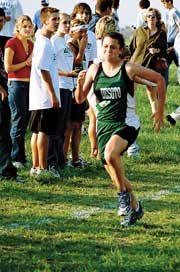 Following the De Soto High School cross country team's first meet of the year at Topeka Hayden, it was the girls that had De Soto cross country coach Chris McAfee thinking state meet all over again.
But in the long run, it was the boys who realized the coach's goal.
The girls continued where they left off last season by winning the invitational after scoring a meager 46 points.
A steadily improving Casey Johnson, along with a solid supporting cast, eventually won out and qualified for the state meet while the girls stayed home.
It didn't help the girls when last year's No. 1 runner, Andrea Young, went down early in the year with an injury. She was able to compete near the end of the season but never made it back to her consistent form.
"That really hurt us this year," McAfee said. "We didn't have that consistent number-one runner. If Andrea is in there, she's a top-fiverunner at every meet.
"We had other runners that were capable of leading us. But Morgan (Frehe) was young and still learning. Carrie (Wilbert) has the ability to be one of the better runners in the area, but she had a roller coaster year for us."
Johnson was able to lend that consistent No. 1 runner to the boys, however, and seemed to set a personal record every week. The junior won the Hayden Invitational with a time of 17 minutes, 23 seconds and won three straight meets by breaking the 17-minute barrier.
Johnson, who had an average time of 16:50 this season, finished in the top 10 in every meet. He also had seven top-five finishes out of nine meets.
"He can be very good," McAfee said. "There will be a lot of factors that weigh into how good he is, but he has a lot of talent. He has a rare combination of speed and strength."
Donnie Gardner was De Soto's No. 2 runner and finished the season with five top-10 finishes. His best time came at the Miege Invitational when he finished ninth in a time of 17:06.
Other Wildcat runners were Tanner McNamara (17:48, 10), Adam Wilcox (19:11, 21), Matt Woywod (19:14, 22), Chris Peterson (17:45, 10), Alex Wayne (19:36, 27).
One of the highlights for McAfee on the boys side was finishing last at the Hayden Invitational and then turning around and qualifying the team for the state meet.
Wilbert was able to pace the girls, despite her up-and-down season, with three top-five showings and four top 10s. Her season bests came at the same meet when she won the Eudora Invitational in 12:50.
Because of her injury, Young's best meet came at the Hayden Invitational when she finished second in 12:45.
Frehe was the top runner for De Soto in two meets. She led the Wildcats to a seventh-place finish at Miege when she was the 14th fastest runner in a time of 12:58.
The freshman also paced De Soto at the Kaw Valley meet by finishing second in 12:56. She had three top-10 finishes.
Melissa Roberts was a consistent No. 3 runner for De Soto when Young was sidelined. The junior finished ninth at two different meets and ran her best time of 13:12 at the regional meet.
Katie James (13:39, 15) and Sarah Jokisch (15:11, 65) also competed on the varsity for the Wildcats.
With the success both teams have accomplished the past two years, McAfee hopes next season is the year both teams put it together at the same time.
"Hopefully all will go well and we'll make it to state," McAfee said of both of his squads. "But that's still a year away. If all of the guys come out, we could possibly be a top-five team. For the girls we'll have to have everybody come out and stay healthy. If that happens, I could see us being a top-three team."