Chemical welfare
Hazardous waste handlers keep Johnson County safe from hazardous household materials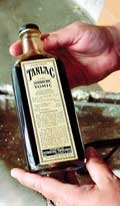 :ooking at a 30- to 40-year-old canister of a product called Ant Pizen, Betsy Betros shook her head at past marketing practices.
"It's amazing what people used to be able to buy over the counter," said Betros, pollution control director for Johnson County Environmental. "It's 5 percent DDT. That's not so bad, but it contains sodium fluoride -- a deadly poison.
"Our love affair to kill bugs nearly killed us, too."
Making the product's ingredients more alarming was the label's recommended use of the poisonous powder. Users were instructed to "spread liberally" in cupboards, cabinets or drawers while warned not to breathe the powder.
The canister, with its directions so obviously contradictory as to be funny, was one of the more unusual items brought to the Johnson County Household Hazardous Waste Collection Center. The three small warehouses that make up the center in northeast Johnson County are filled with paints, stains, varnish, solvents, household cleaners, batteries, used motor oil, lawn chemicals, pesticides and other items found in garages, basements, cabinets and sheds throughout Johnson County.
An estimated 5,500 county residents will visit the center this year to rid their homes of the products that should not be poured down the drain or shipped to a landfill, Betros said. In its 10-year history, hazardous materials from 40,000 county households have been dropped at the site.
"We're not here to tell people not to use chemicals," Betros said. "We're here to tell them to use it properly, store it properly and dispose of it properly. For the last 10 years, there's been an alternative to just pouring it down the drain."
The center's staff processes incoming items for different destinations. Some chemicals, such as flammable liquids, were carefully separated into large drums that would be taken by contractors to be burned at licensed incinerators, Betros said. Aerosol cans and nearly empty paint or varnish containers are stacked as tightly as possible on skids for contractors to haul off at $300 a skid.
Other items are offered for re-use. The most common item is paint, such as the vanload of cans Becky Ontjes of Overland Park dropped off Monday that she said had been in her basement for years.
Staffers Daling McMoran of De Soto and Stephanie Farley pour the latex paint into two vats for reprocessing. The end results were what Betros called light and dark "Johnson County earth tones." McMoran said he and Farley did occasionally experiment with colors beyond that basic range.
Most of the paint was repackaged in five-gallon plastic buckets and given to two frequent "customers" of the center. But Betros added the paint was free to all. Those visiting the center were also free to select from the as-yet-unblended paints for a color they desired.
"We've recycled 50,000 gallons of paint back into the community -- 6,500 alone this year," McMoran said.
Many other items from butane to a host of household cleaning agents were also given away free, Betros said.
"We don't like the term recycling because then people bring in their bottles and cans, but we are a chemical recycling center," Betros said. "We try to encourage it because it's cheaper for the county if we give it away than pay someone to haul it off and dispose of it."
The center's drop-off service is available free to all Johnson County residents or qualifying small businesses, Betros said. The recycled materials were available to all, she said. Appointments are required for both services. The center is open Mondays, Wednesdays and Thursdays from November through March. A once-a-month Saturday collection date is added during the remaining seven months.
"In our peak times during the summer, you may have to wait a week," Betros said. "In the winter, it's not a problem because our attendance is down."
With few exceptions, the center neither delivered nor picked up materials, Betros said.
"We do pick up from homebound folks," she said. "That's good because those folks are often older with a lot of older stuff."
The center made an exception to its no delivery rule after tornadoes hit the metropolitan area last spring. McMoran said he bundled up a three-week collection of cleaning supplies that he delivered to hard-hit areas.
The center will collaborate with the city of Olathe and the Johnson County Stormwater Management Program for a special collection day this Saturday, Betros said. Both the Olathe and county site will be open to all county residents, she said. Appointments will still be needed but additional staff will be on hand to help with the effort.
To make an appointment at the Olathe center, call (913) 971-9311. Appointments at the county site can be made by calling (913) 492-0402.
"The center in Olathe is cooperating with us," she said. "That should be great for people in the western or southern part of the county."
More like this story