Wildcats alright with winning ugly
De Soto's 46-26 win Friday over Perry-Lecompton wasn't the prettiest win in the history of Kansas high school girls basketball -- but it was a win just the same.
"Tonight was a slow and ugly win," said De Soto leading scorer Allie Heinen. "But we blew them out, so that was great."
Not that the Wildcats have to blow out every opponent. Heinen and the rest of her teammates realize there is still plenty of good competition out there.
She just relishes the idea of going out and dominating the opposition and flexing some muscle once in a while.
"The first win we had this year was impressive," she said of the 66-30 blasting the Wildcats handed Kansas City Turner. "But then we barely escaped an upset by Mill Valley, and we should have beaten Santa Fe Trail. We just wanted to show how winning big is important to us."
The Wildcats looked as if they were going to blow the game open early. After forging out to a 14-8 lead after the first period, De Soto scored the first eight points of the second period, building a 14-point advantage.
Amy Petty spearheaded the assault by drilling a three pointer just eight seconds into the period and ended it with a short jumper with five minutes left in the period.
The Kaws battled back, however, and needed just two minutes to get back in the game. Haley Wilson broke the four-minute scoring drought for Perry-Lecompton with a layup after dribbling through the Wildcats' press.
Tonya Gimzo and Andrea Williams then broke down the Wildcats' defense off the dribble on three straight possessions. The result was a short jumper by Megan Blosser and back-to-back threes by Alyssa Higgins, cutting the deficit to 22-18 with about three minutes left before the intermission.
"They can shoot the ball," De Soto coach Dwight Spencer said of the scoring barrage. "Their guards did a good job of penetrating and dishing the ball. When they get good looks at the basket, they're going to knock it down."
Heinen said playing smarter defense was the key to the second-half blow out.
"We stopped the ball better and were smarter on not fouling," she said.
For the second time this season the Wildcat defense shut out an opponent for an entire period, as De Soto outscored the Kaws 14-0 in the third stanza.
Kira Gonzalez started the onslaught when she picked up a Perry-Lecompton turnover and raced coast-to-coast for a layup. Petty finished the run with a pair of free throws.
Meanwhile, Heinen and Lambert each scored five points in the frame as the Wildcats bolted to a 40-18 advantage entering the final period.
De Soto upped its lead to 44-18 in the final period following back-to-back offensive rebound put backs by Becca Davis and Petty. Perry-Lecompton cut the deficit to 20 points with a 6-2 run to end the game.
"I was very pleased to hold them to just eight points in the second half," Spencer said. "I thought we did a pretty good job in the first half, but we could never get in sync."
De Soto connected on 20-of-63 field goals (32 percent) and five of 10 free throws. The Wildcats held a huge 49-22 rebounding advantage and forced 28 Kaw turnovers, including 12 in the decisive third period.
The Kaws shot 33 percent from the field but put up 30 fewer shots than the Wildcats, and made just two-of-nine charity tosses.
Besides scoring a game-high 15 points, Heinen just missed a double-double with nine rebounds and added two blocks. Petty contributed nine points and eight caroms from her guard position.
Becca Davis had an all-around good game with five points, eight rebounds and a couple of blocked shots, while Lambert had a solid outing with seven points and seven rebounds.
Higgins led the Kaws with 10 points and pulled down two rebounds. Haley Wilson added eight points and five rebounds, while Casey Amerine was good for four points and a team leading six caroms.
De Soto carries a 3-1 record into the Christmas break. They continue their season Jan. 6 at home against Tonganoxie.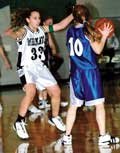 De Soto 46,
Perry-Lecompton 26
De Soto 14 12 14 6 -- 46
Perry-Lecompton 8 10 0 8 -- 26
De Soto: Lisa Lambert 7, Amy Petty 9, Becca Davis 5, Kira Gonzalez 4, Laurie Wilson 4, Allie Heinen 15, Jackie Goleman 2.
Perry-Lecompton: Andrea Williams, Alyssa Higgins 10, Casey Amerine 4, Haley Wilson 8, Megan Blosser 2.