Heavy mettle
De Soto veteran goes the extra mile for a hobby in military hardware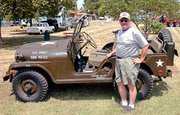 Racking his brain, Dave Christenberry tried to come up with a hobby that would include both his career and his love for the military.
Now 15 years later, he is still toiling in his garage and pinching pennies so he can start and finish his next project.
Christenberry has been doing his part in keeping military history alive with the help of other military and vehicle enthusiasts who belong to the Military Vehicle Preservation Association.
"We are really just your regular car club," Christenberry said. "But instead of collecting Lamborghini's, we picked army vehicles."
The international organization has two chapters in Kansas and another in Jefferson City, Mo.
Christenberry, who belongs to the association's Kansas City Hell On Wheels chapter, completed one of his first projects by refurbishing an old World War II ambulance.
"It was really neat looking," he said, "but not real practical."
So he sold that vehicle to an enthusiast in Olathe and moved on to another project. Then another...and another...and another.
His long list of restorations includes the ambulance, several military trailers, a couple of mules, the jeep, and a 1939 Dodge that is still a couple of years away from completion.
Christenberry said he was fond of all military vehicles but jeeps were one of the more popular machines because they were easier to drive and tow.
Some of the bigger vehicles are restored, but are cost prohibitive to move around.
"You have to get a permit and a wide load truck to haul them around," Christenberry said of the big armor pieces. "It depends on the mission, but sometimes the military will transport them too."
The Johnson County Med-Act employee said that the military vehicle hobbyists can find parts and vehicles at government auctions, magazines ("Army Motors" and "Supply Lines"), through classified ads in newspapers and even auto parts stores.
"There are businesses based around the business," he said. "Whatever you're looking for, they're all good sources."
Christenberry and several members of the association will bring a bit of history to De Soto this weekend at the De Soto Days Festival car show. He will bring the M38 A1 Korean War era jeep he restored.
The 23-year veteran, who spent stints in the active Navy, Army Guard and Army Reserves, said the association was often mistaken for military.
"We usually just hang out and talk to people," he said of the group of military vehicle collectors. "We aren't allowed to have any functional weapons on the vehicles. And we aren't linked to any militia groups."