Crisp offense has Wildcats optimistic
DHS

should be in hunt for Kaw Valley League crown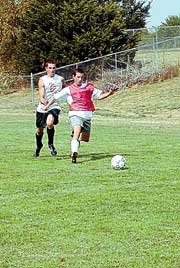 Last season, De Soto soccer coach Mike Murphy was concerned about his offense's ability to attack with a purpose. Too often he watched as his team seemed to waste scoring opportunities, appearing satisfied to just clear the ball out.
But after watching the 2003 edition of Wildcats play Saturday against alumni, he had to be wearing a smile. In fact, what was once listed as a weakness could now be considered a strength.
"Our ball movement and passing are very, very much improved," he said. "After watching them Saturday, I think our offense will go about their business this season. We're going to move the ball with more purpose and efficiency."
De Soto should enjoy a more productive offensive year in 2003, mainly because of the experience. Murphy welcomes back six starters and eight lettermen.
He also welcomes back senior midfielder Josh Arnold, who played soccer his freshman and sophomore seasons before running cross country last season.
"His return is vital to the success of our team," Murphy said. "He is a great leader with a lot of drive. Arnold is so competitive. He's just an all-around good player."
Arnold will team up with sophomore Lance Williams, another former cross country runner, and junior Kyle Bray to work the midfield in Murphy's newly adopted 5-3-2 formation.
Murphy said the cross country experience would be beneficial for the Wildcats, especially in the midfield positions.
"There is a lot of running required at the midfield position," he said. "You have to be able to run up and give the offense some support. And then if your opponent makes a run on you, the midfielder has to be able to get back and lend support to the defense. It's such an exhausting position."
Murphy's plans include shuffling several players in to help Arnold and Williams out at the right and left midfield positions.
Taking over at the center midfield position will be Bray, whom Murphy described fearless and aggressive, traits he claimed were crucial to that position.
That move allowed senior Jesse Smith, De Soto's all-time leading goal scorer in recent history, to move to forward where he can concentrate on doing what he's good at -- scoring goals.
Murphy, who has compiled a 34-18-3 record in his previous three years at De Soto, hoped the change would allow Smith to go after the single-season scoring record.
"Every team needs a player like him," the coach said. "He's the guy you call on when you need a goal. You want the ball at his feet."
At goalkeeper, Sean Karashin returns for his senior season after splitting time with Harley Mostaffa last season. Last season's playing time was an opportunity to reward Karashin for his performance on the junior varsity team his freshman and sophomore season and acclimate to playing varsity, Murphy said.
"Sean is a great goalkeeper to have in the game when you're playing against a team that likes to take a lot of shots," Murphy said. "Because he'll block those shots for you."
Another senior who will be relied on for his defensive skills is James Azeltine, who was all-league defender a year ago.
He will handle the sweeper position for Murphy this year as De Soto's top defender. Murphy said Azeltine was aggressive and had excellent ball skills and good feet, the perfect combination for a player who is the last line of defense.
Tyler Maniez will be called on to fill in wherever he is needed again this year. The senior was named all-Kaw Valley as a utility player last season.
"He's so invaluable to us," Murphy said. "He's been a sweeper, midfielder and forward for us. Tyler has been named all league at some level (first team, second team or honorable mention) every year he's played for us."
Senior Graham Power will be looked on to score a goal or two for the Wildcats this season, and Murphy has been impressed with senior newcomer Bryan Buser's performance in camp.
Juniors Zach Bader, Scott Baldwin and Ben Moon were all expected to contribute in some way this season.
Although Smith was lethal with the ball on his foot, Murphy looked to other players to help out with the scoring and other roles of responsibility.
"I want everybody to be able to take the role of a leader," Murphy said. "If the game is down to the final seconds and a player has the ball on their foot, they have to be able to get the job done."
De Soto should contend for the Kaw Valley League title, Murphy said. Other top teams included Mill Valley and Lansing.
Mill Valley's enrollment would almost certainly make it a 5A school, and Lansing could also slip into the higher class, Murphy said. Regional competition would still be tough because of the presence of KC Christian, the defending 4A state champion.
Still, Murphy said if his team worked hard and played well at the right time, it could have a very big year.
"We've shown we can play with all those teams," he said.