Sophomores ready for flatland races after mountain camp
DHS

' Wilbert, Young ready to defend Kaw Valley crown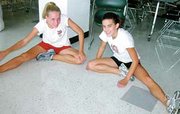 Although they may never run in the Rocky Mountains again, Carrie Wilbert and Andrea Young took advantage of a mile-high experience to get a little extra advice and training before the upcoming high school cross country season, which starts in a couple of weeks.
The talented pair of sophomore distance runners attended this year's Smarter Training for Faster Running Camp in July near Pueblo, Colo.
Wilbert, who teamed with Young to give De Soto a swift one-two punch last season, sees another big year in store for the Wildcats after De Soto won the Kaw Valley League title and qualified for the Kansas 4A state cross country last season.
She hoped to not only use her natural running ability to beat opponents but also to implement some of the tools she took home from the camp. The sports psychology and motivational workshops were especially memorable, she said.
Yet Wilbert's favorite part of the camp wasn't necessarily the running the athletes took part in but rather where they ran.
"I really enjoyed the running trip we took to the Garden of the Gods," she said. "It was a fun experience to run in the different places we ran at. Meeting all of the other runners was also a great experience."
Wilbert, who admits she isn't the healthiest of eaters, will try to change her diet somewhat after gaining valuable information about nutrition for runners.
Young enjoyed the runs as well but for a different reason. She relished the idea of being able to take in the breathtaking scenery she encountered along the way.
"We only ran once a day," Young said, "and it was for only 30 minutes. It wasn't hard at all, so I liked that. During the runs we did go on, I stopped once in a while to just take a look at everything."
Young remembered one tip that camp director David Ramsey gave her about encountering rainy conditions.
"He told me to put newspaper in my shoes," she recalled. "It's supposed to keep the water out of your shoe and help the shoe keep its shape."
Ramsey said the camp's objective was to give young runners an affordable way to get in some running, gain knowledge, and make new friends. But one of the most important aspects of the camp was the stress-free environment it provided for the runners, he said.
"There isn't any racing at the camp," Ramsey said. "We are just trying to get the kids ready to train and run smart."
The camp gives runners a wealth of information through workshops and demonstrations, training, and the opportunity to meet with counselors, some of the elite and collegiate runners in the United States.
A couple of years before he actually opened the camp in 1998, Ramsey said friends and acquaintances tried to con-
vince him of the need for such a camp, but he couldn't work the time into his schedule.
Now, he said, the camp's objective was to break even with the fees.
"We want the kids to get the knowledge as cheap as possible, but still be able to take something home from the camp," he said.