Hot enough for you?
For training De Soto firefighters, the answer is no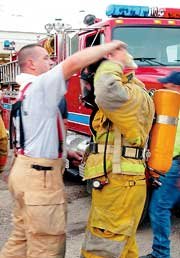 Even on a cold winter day, the De Soto Fire Department's latest training would have seemed like the exercise from hell.
With early evening temperatures Monday still hovering near triple digits, 15 fire department part-timers and volunteers took turns walking into a corrugated metal trailer. Inside, they faced 900-degree heat from a fire fueled by burning wood pallets and straw-like cellulose, which added a choking black smoke to the hellhole's ambience.
The task of each three-person team was to enter the burn trailer with a fire hose, maneuver through smoke-filled rooms, and suppress the fire.
As he peeled off the hood of his protective fire suit, Matt Saving reflected on his trip into the trailer on loan from the Kansas University Fire Training Center.
"That got hot quick," he said. "I took us in too fast on that one."
De Soto Fire Chief Kevin Ritter said he said the exercise was one of the special trainings the department offered to augment the regular monthly fire and emergency medical service training sessions required of the department's 15 part-time firefighters and 35 volunteers.
"They don't allow us to burn houses anymore," he said. "This provides the same, and sometimes greater conditions, as you see in a room and content fire."
When really stoked, the fire produced smoke thick enough in the trailer to blind the firefighters.
"Without the thermal imaging camera, it's all touch and feel," Jason Faulkner said.
The training's very real danger reinforced the reason for such procedures as checking the operation of fire hoses before entering hot spots and closely inspecting a partner to assure no skin was uncovered by protective clothing.
"You'd feel it if you left any skin exposed," Larry Baxter Jr. said. "You'd come out with your skin blistered where it wasn't covered."