De Soto's Allen becoming buzzworthy
Senior fullback getting attention from schools, recruiting mags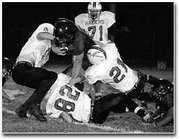 Michael Allen has been creating quite a stir in the Kansas prep football ranks the past couple of years. Now it appears his name is being bounced off of some hallowed walls in the college ranks as well.
With the likes of Kansas, Kansas State, Nebraska, Connecticut, Colorado State, Oklahoma, Illinois, Notre Dame and UCLA, to name just a few, sending letters of interest to the senior fullback, it's safe to say his talents are known nationwide.
Allen is also getting mention by recruiting magazines and Web sites alike. Rivals100.com described Allen as:
"A unique runner blending a hard running style with deceptive speed. He's one of the top running back prospects in the Midlands region."
Though he admits the recruiting process can be fun, Allen also acknowledges it can be rather frustrating at times, especially when it comes to filling out those darn college questionnaires.
"It's rather time consuming and it gets old, too," he said. "I often spent the third block, the entire hour-and-a-half, filling out the questionnaires and putting them in the mailbox at school. But it's something you know you have to do."
Since he doesn't plan on having a college choice made until next December, Allen knows there will be extra pressure this fall during the football season. But he's taking the approach that he doesn't have to prove anything to anybody but himself.
"The only person I have to impress is myself," said the 6-2 235-pound Allen. "If I don't believe in myself, how can I accomplish anything? I don't want to go into the regular season worried about who is going to be there, I just want to play with my friends and win football games."
Having grown up in Kansas and been a Kansas and Kansas State fan all of his life, Allen places those two universities at the top of his list for now. But he also lists Connecticut and Nebraska as other frontrunners.
Ultimately, Allen said his decision would come down to who could offer him the best education and still allow him to play football.
"I will go to a place that will be able to offer me a great education and a little bit of playing time," Allen said. "If they have a need for a fullback with my size and speed, and I'm a good fit, then that would be a good choice for me."
In order to learn as much as he can before his senior season, and maybe improve his recruiting chances, Allen attended the Nike Camp in Boulder, Colo., and a Kansas camp so far this spring. He is also considering attending a Nebraska camp later this month in Lincoln, Neb.
During his final high school season, Allen hopes to use his unusual combination of power and speed to add to the already impressive numbers he has compiled at De Soto High School.
The returning all-Kaw Valley League running back used his 4.6-second speed in the 40-yard dash and a bench press of 285 pounds to rush for nearly 2,600 yards during the past two seasons.
He describes his running style as all down hill and loves to run up the middle.
"I love it when I run up the middle and a middle linebacker hits me in the mouth, and I bowl him over," said Allen. "I can drill him into the ground and pick him up, and he knows I'm better than him, at least on that play."
Though he has been known to juke guys out of their socks on occasion, it's not his usual style. If he forgets, there is always someone there to remind him of the fact.
"If I try to juke I get yelled at," he said. "Coach (Scott) tells me to run them over, and I run them over. I want to score on every play."
Allen hopes he and his teammates can compile a .500 record or better this fall. His personal goals include making all-league again this season and rushing for 2,000 yards.
He would also like to see a slew of his teammates on the all-Kaw Valley League team.
When not playing sports, Allen spends time watching Metro Sports and keeping up to date with the latest prep sports happenings around the metropolitan area.
Who knows, it may not be long and he'll be following those same players from the college ranks.
More like this story