Wildcats fight through busy week
The De Soto soccer team improved its record to 6-3 with back-to-back victories earlier in the week.
The Wildcats defeated Immaculata 3-1 Monday in a game postponed from Sept. 11. The team was back on the field the next day with equally good results, beating Basehor-Linwood on the road 5-1.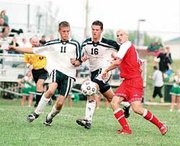 Coach Michael Murphy said the back-to-back games will help the prepare for post-season action when such scheduling is routine.
He is also pleased with how his team has performed over the past week.
"We're playing much better," he said. "We made changes in the lineup.
"You can't complain about a 5-1 win, but we got a little complacent and allowed a late score. If we did that in a tie game it could cost us the game. We talked about keeping our focus for 80 minutes."
The Wildcats snapped a two game losing streak Tuesday, September 18 with a 3-1 win over Perry-Lecompton, which fell to 1-5.
De Soto posted a shutout, but Perry-Lecompton was awarded a goal when a Wildcat defender tried to clear out the ball.
"The field was wet, making the ball slippery," Murphy said. "When we tried to clear it out it rolled into the goal for them."
Jesse Smith continued his dominating ways by posting two of the goals for De Soto. Tyler Maniez tallied the other goal for the Wildcats.
"We moved Jesse into the center and the move went pretty well," Murphy said. "The team did a nice job of holding onto the ball and moved the ball pretty well at times."
Paul Seaman had an assist on one of Smith's goals.
The Wildcats outshot Perry-Lecompton 20-5, with many of the Kaw's shots being weak rollers.
Lansing started fast against De Soto last Thursday by tallying two goals in the first 19 minutes of the game.
The Lions built a 3-0 halftime advantage in the 34th minute when it buried a penalty kick. Todd Manson was called for using his hands after he slipped and fell on the ball.
The Lions also scored in the 48th minute to take an insurmountable lead of 4-0.
The Wildcats avoided their first shutout of the season when Smith scored on a penalty kick two minutes later. But lighting foiled any hopes of a De Soto comeback when the game was called with more than 27 minutes left.
"The effort and level of play was as good as it's been all year," Murphy said. "We just want to focus on that and try to equal it regardless of who we're playing."
The Wildcats travel to take on a young and struggling Piper team Thursday for a conference match scheduled for 5:30 p.m. De Soto defeated Piper 2-0 earlier in the season at home.