McPherson looking to beat drum for public education as regional Kansas Teacher of the Year candidate
Linda McPherson admits she has strong opinions on public education.
"I can be outspoken diplomatic, but outspoken," she said. "I do have a vision of what education should be."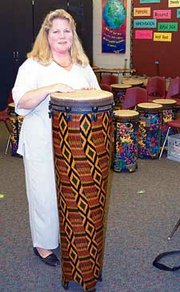 The Mize Elementary music teacher said that is particularly true when it comes to music.
"Elementary subject matter should be integrated. No longer should students sit and sing," she said. "They need to be involved in making and creating music. Music is creativity."
McPherson had the opportunity to put those opinions in writing last spring as she filled out a 25-page questionnaire for the Kansas Department of Education's Teacher of the Year Award. The effort earned McPherson recognition as elementary education teacher of the year in the state's region three.
In what is becoming a tradition in the De Soto school district, McPherson will now compete for State Teacher of the Year honors with three other elementary teachers and four high school regional winners. Social studies teacher Karen Wall was regional high school teacher of the year in 1999, and DHS music teacher Mary Etta Copeland earned the same honor last year.
Candidates for the award are first nominated by parents or fellow staff members from their buildings. Building winners are chosen from their responses to a two-page questionnaire, McPherson said. That earned the building winners the right to fill out a four-page application used to select the district's winners, McPherson said.
"I've been nominated in the past," she said. "This year, I decided it really is an honor and filled out the application.
"I really want to make a difference in teachers' lives, education and for students. After watching Karen and Mary Etta, I decided this was worthwhile."
Wall and Copeland both inspired and helped her earn the regional award, McPherson said.
"Since we've had winners, I needed to step up and do just the same quality of work they've done," she said. "Karen has been very helpful, telling me what to expect. Mary Etta has answered all my questions."
It's no accident the district has produced regional winners the last three years, McPherson said. It has developed incentives to encourage participation. District teachers of the year earn $50 to be spent in their classrooms and a trip to a regional education conference. District winners are rewarded with $100 and a trip to a national education conference of their choice.
This week, members of the state selection committee interviewed McPherson and taped her in the classroom. The video will be shared with the other members of the selection committee before the winner is announced in November.
"I'm not nervous about that," McPherson said Monday. "Teaching in front of people is what I do. I might be a little bit apprehensive about the interviews, because I don't know what they are going to ask."
Whether she wins the state award or not, McPherson will spend much of her spring serving as an ambassador for public education. In that role, she will visit other schools, speak before various service organizations and lobby the Kansas Legislature.
"I'm looking forward to that," she said. "I think education has a lot of good teachers. Their story needs to be told. We do a tremendous amount of good work."
More like this story