As the fall semester rolled around at Lexington Trails Middle School, family and consumer science teacher Gayle Moriarty had already planned sewing into her eighth-grade class curriculum. Then, school social worker Debbie Bottoms presented an idea to Moriarty that would enable the class to learn to sew and benefit others at the same time.
Moriarty took Bottoms up on her idea.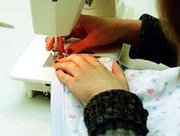 The class learned how to sew baby quilts and blankets, which were to be given to Project Linus. The non-profit volunteer organization helps meet the needs of children who are seriously ill, traumatized or otherwise in need of handcrafted blankets and Afghans. The blankets are then donated to a local chapter of Project Linus, such as one in Kansas City, Kan.
Bottoms said the charitable work would teach students several skills.
"One is the sewing skill," she said. "The other is that we wanted them to do something for someone else.
Moriarty said the project incorporates the teaching of moral responsibility within her family and consumer science class.
"That was why I thought that it was such a wonderful idea," she said. "Even though you get the skills of sewing, you get the satisfaction of giving to someone else."
With most of the blankets completed, the class will present them to a representative from Project Linus next week. The class also discussed what the students got from the experience, Bottoms said.
Eighth-grader Jacey Martinez said learning to sew had its share of ups and downs.
"Sometimes it was frustrating," she said.
However, she was looking forward to giving her handcrafted blanket to those in need.
"When we (give them), I'm sure I'll feel good about myself," she said.
Josh Fulk said the experience has opened his eyes to possibly of doing other charity work outside of school.
"Like helping with the retirement homes," he said.
While learning about charities may have inspired some, it may be harder to keep them sewing. Chelsie LaCoursiere said she's done a similar project giving blankets to others through her church, but sometimes she was frustrated with the mechanical side of sewing.
"It's hard to do to an extent when you have a lot of things on your mind, plus when it's not working," she said.
Anyone wanting more information on Project Linus can visit their web site at http://KCProjectLinus.home.att.net or call (816) 330-3288.