Cooking with a touch of memories
Upon entering the driveway to De Soto's Veterans of Foreign War post No. 6654 on Saturday, the smell of fried fish drifted through the midday rain. Inside, children, parents, teenagers and veterans gathered for the VFW's annual fish fry.
The scenery was not unlike any other year for the fish fry at the VFW. The interior is decorated with symbols and slogans of military iconography: a strategy map of the Gulf War, a combat helmet, a Vietnam War Prisoner of War flag, donned in black. Outside, VFW members worked preparing fish, saturating the fillets with a rich batter and a deep fry.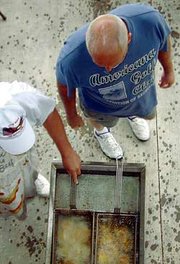 The spirit of the men preparing the food was high, with a joking mood and camaraderie shared among them. But, with last week's terrorist attacks in New York and Washington D.C., there was also a silent concern of an impending war and remembrance of the service that action would require of America's soldiers.
As Richard Marshall and Steve Kingsford, both Vietnam veterans, fried fish for the attendees, they voiced their opinions on the tragedy at hand and what action should be taken.
"I've got a lot of mixed emotions," Kingsford said.
"The biggest concern is if we're going to do anything or not," Marshall said. "We hope they do."
Kingsford said he supported the government in whatever choice is made in light of the tragedy.
"God bless them, whatever they do," he said.
A veteran of World War II and the Korean War, Jack Bowers said he understands the fear of not wanting to go to war. But, he said, there is also the desire for patriotic justice.
"Nobody wants to go to war," he said. "But if that's what it takes, I'm all for it. If they'd take me, I'd go."
As volunteers cooked outside, the VFW began filling up with those hungry for food and conversation inside. VFW auxiliary workers filled plates with side dishes and enjoyed each other's company.
Ernestine Tripkos has worked the annual fish fry since 1968 and said every year, there's always a select few who show up earlier than anticipated to get their food. She said this year's attendance was "about par."
"The older people come in about 11 a.m. and they're ready to eat, but we're not ready to serve them," she laughed.
Virginia Niebaum, VFW Auxiliary member of Louisburg, said she doesn't mind making the drive to De Soto's annual fish fry because she has many friends in the city's auxiliary.
"I usually come up for the fall fish fry," she said. "It's not too far away."
As the dinner wound down, the cooks were well-prepared so they too could enjoy some of the cuisine. Most of the fish prepared was Alaskan Pollock, but the cooks would partake in an unspecified fish a perk of working the fish fry.
"We have some private stock that we keep here for ourselves," said Vietnam veteran Jim Martino.