Fourth-grade students at Mize Elementary showed their appreciation for their grandparents with a special presentation before school's end last Friday.
In the process, the students learned a little about their elders.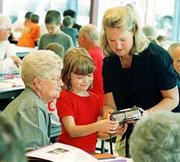 Grandparents were treated with song and refreshments, but then had some school work to do. They were asked to fill out an informational packet about what life was like for them when they were in the fourth grade. Every student also included a brief description of their grand-relative's qualities in the packet.
Kimberly Patton's grandmother, Bernadine Sticka, did more than browse through the packet before the program began.
"Oops," she said. "We've got a jump start on this already."
Joey Kuhn included his packet with words of praise and a picture, which his grandparents from De Soto, Tex. read before the program began.
"My grandparents have a great smile," read a line from a poem for his grandparents.
Student Skylar Pratt said he learned things about his grandfather, Veril Glassinger, he hadn't known before.
"He liked football," he said.
Glassinger recalled his days of elementary school and said some of his childhood activities really aren't as prevalent today.
"When I was a kid, I played marbles," Glassinger said. "I was pretty good at it. They don't play marbles anymore."
The event served a purpose greater than bringing grandparents to school for fun and praise, said Mize fourth-grade teacher Lisa Hanley. With digital cameras in hand, teachers took pictures of grandparents with their grandchildren. Hanley said the pictures would be used with the information in the packets and then applied in the classroom. Later, students will make thank you cards with the pictures and send them to their grandparnets, she said.
Hanley said the grandparents program is a part of the fourth-grade curriculum, but it does have greater implications.
"It's a community effort and also we learn from our past," she said. "And, to appreciate our older generation."
More like this story