Rules for computers become fourth R of Starside education
In the Starside Elementary computer lab last Friday, first-graders Samantha Mills and Robbi Lycan navigated a computer mouse through an educational computer program called Sammy's Science House.
"Let's watch a movie," Mills said. "Here it comes; here it comes."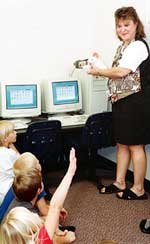 Mills has access to a computer at home, while Lycan doesn't. But Lycan was proving to be a quick study after three weeks of tips from Mills and computer lab instructor Suzanne Sherman.
As the class began and ended, both girls had no problem logging on and off their computers. Lycan was as adept as Mills at playing games, music and movies from the educational program.
"I really encourage the students to help each other," Sherman said. "There are so many ways to do the same thing on a computer. I'll tell them one thing, and someone will say, 'You can also do that this way.'"
In the early weeks of the year, Sherman spends much of her time acquainting students with the computer parts and making them aware of the district's regulations on their use. Kindergarten and first-grade students are also instructed on home-row keys and mouse skills.
But, Sherman said it wouldn't be long before she starts incorporating classroom curriculum in the young students' computer labs periods.
"We start in kindergarten even," Sherman said.
The younger grades bring lesson in animated literacy, a teaching methodology that uses expressive gestures and vocalizations to increase students' interest in learning, to the computer lab, Sherman said. They also study the alphabet and play games that have them identify and categorize animals.
Sherman introduces the students to the math program Excel in the fourth-grade and the multi-media presentation program Powerpoint. Fifth-graders are required to prepare a Powerpoint presentation for their classrooms, she said.
In addition, students are introduced to Internet research in the second-grade.
"We try to talk about safety, in case they have computer access at home," Sherman said.
Sherman was a classroom teacher in De Soto for 12 years before becoming Starside's computer lab instructor last year. Over that time, she said she has witnessed a revolution in classroom technology.
"The first year I was here, I think we had a couple of Apples of some kind," she said. "Most of the staff was uncomfortable with those.
"De Soto has been very good at pushing technology. We have two computer labs here. It's not just computers. Classes use digital cameras, scanners the whole range of technology."
The revolution will continue as the district introduces the NetSchools laptop program next year, Sherman said.
The elementary students have more than kept up with the technology, Sherman said.
"It's obvious more and more kids have access to home computers," she said. "Kindergarten and first-graders are coming in with mouse skills.
"One older student brought in a disassembled computer, telling us all the technical names I don't know."
The importance the district places on technology will be made tangible to students this year, Sherman said.
"This is the first year we'll be giving grades in the technology part like we do in physical education and music," she said. "We thought this would be the year to do it, since we're implementing a new grading system."
Despite that emphasis, Sherman said one of her goals is to allow the students to have fun.
"They are usually very good about staying on task. They like being on the computers," she said. "I give the younger kids lots of time to explore. We want our younger kids to feel comfortable using the computers and have fun with technology."