Kaws hand flat Jags first loss
Daylong weather delay doesn't help
MVHS
What a difference a week makes.
One week after Mill Valley High School's football team defeated league power Immaculata in the opener, the Jaguars came out flat and fell to Perry-Lecompton High School 23-13 in a game that began Friday and was finished Saturday because of a lightning postponement.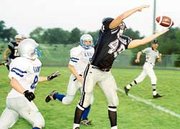 "Obviously we got outplayed," coach George Radell said. "That's something that just happens, but our mental approach was less than perfect. They out-hit us, they out-blocked us and they out-coached us."
The out-playing began with the first tick of the clock on Friday night. Mill Valley kicked off to start the game and 12 seconds later PLHS running back Jared Swafford reached the end zone and put the Kaws up 7-0. Radell said the kickoff miscue was more a case of players not getting their jobs done than anything else, but he also said it was a good illustration of how unprepared his team was mentally.
Radell put a lot of the blame for his players' lack of preparation on himself, but the players themselves were more than willing to accept most of the blame.
"Everyone has their days," senior lineman Dustin Stinnett said. "It just happens, there's really no reason for it, but I think we're lucky that it happened to us now. It's kind of a wake up call for us. We know now that we have to bring our game every night."
Stinnett's partner in crime on the defensive side of the ball, Erik Abels, said he, too, could not explain it further than the team just came out flat.
"That's pretty much it," Abels said. "We were just flat. But it's just getting us more pumped up for the rest of our games. We don't want that to happen again."
To make sure that it won't, Radell has changed things up a little at practice this week.
"We're going to up the tempo at practice this week," Radell said on Monday. "Because I just can't watch that again. It starts in your head, and once you get the mental part taken care of then you can work on the blocking and the hitting, and believe me we're going to work on it."
While the comments and reactions of the Mill Valley players and coaches suggest the Jaguars were never in the game, that was actually not the case. Down 13-0 when the game was called on Friday night, the Jaguars got a chance to regroup overnight and came out Saturday ready to play.
"I actually liked it," Stinnett said of coming back Saturday. "It was a good chance for us to regroup and refocus and we did come out on Saturday and play a lot better. Like coach said, if we got a couple of plays here and there we could've won that game."
As it was, however, Perry did just enough to hold off the Jaguars and now MVHS is taking an entirely new approach into each game, including this Friday's against Lansing.
"Now it's one game at a time, no doubt about it," Radell said. "Lansing's big like they always are and they're talented. We're going to have to be on our game to beat them and I know that I'll do my job better this time, because I just can't watch that again."
MVHS will kickoff its third game of the season, at 7 p.m. Friday, Sept. 14 at Lansing High School.
More like this story