Meier heads up in overtime victory
Willie Meier's header and Jesse Smith's offense was all that was needed as De Soto's boys soccer team has started the 2001 season where it left off last season winning.
Meier's header proved the difference in the Wildcats 4-3 overtime thriller against Highland Park in De Soto last Thursday. The goal came about six minutes into overtime against and kept De Soto undefeated at 2-0.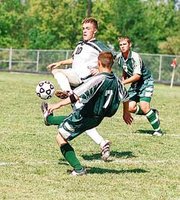 "The ball was just kind of bouncing around out there and Willie just got a head on it," said De Soto Coach Mike Murphy on the winning goal against Highland Park.
Smith has proved to be the offensive force for the Wildcats so far this season, with five goals and an assist.
Murphy also had high praise for his rotating goalkeepers after the first week of the season.
"Chris Dabbs gave up just one goal in the second half of the Highland Park game," said Murphy. "And the kid (Highland Park) just took a real nice shot on the kick. Dabbs did a nice job of coming out and not letting the forwards get a shot off.
"Harley Mostaffa, on the other hand, is a real good athlete. We just need to get him some game experience."
Two of Smith's goals came just four minutes into the first half against Highland Park, and De Soto led 3-0 midway through the first half. Highland Park tallied a pair of first half goals of its own to go into intermission trailing 3-2.
"Their team speed really gave our defense problems," said Murphy. "But most of their shots were high or wide."
Though he is pleased with the way the Wildcats are performing, Murphy said his team is playing a little rusty.
"We have several guys that are playing at the varsity level for the first time," said Sullivan. "They are starting to realize the speed of play is much faster and more intense."
Murphy also plans on changing his lineup as the season progresses in hopes of finding the right rotation.
"We want the guys to know that this is their job," said Murphy on finding the right starters for each position. "Everybody needs to know what their roles are by season's end. We have to have guys that score, guys that get the ball to guys that score and guys that can come in for just a few minutes and play hard."
De Soto played Piper earlier this week and travels to Mill Valley Thursday for its rivalry game.
For De Soto to find success against Mill Valley, the Wildcats will have to find someone to get involved in the scoring to relieve the load for Smith.
"They've got a good goal keeper and a senior sweeper that's been all-league since his sophomore year," said Murphy. "So they'll probably put him on Jesse. Someone will have to step up and pick up the slack."