Vietnam memorial moves to De Soto
Community joins in honoring war's most important names
As American flags waved nearby in a gentle breeze, Junior Maness watched Tuesday morning as his wife, Jean, did a charcoal rubbing from the Vietnam Moving Wall Memorial.
The name she lifted from the 58,191 on the wall was that of Kurtis N. Chapman.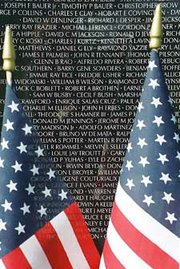 "He was my cousin's boy," Maness explained. "He grew up on a farm near De Soto."
The couple came to the wall to honor the memory and sacrifice of the young man, who died in Southeast Asia 34 years ago.They were among the first to walk to the wall shortly after a ceremony formally marking its arrival at De Soto's Miller Park.
De Soto Veterans of Foreign Wars Post 6654 Commander Rocky Hughes had said the post wanted to make the wall's visit a community event. Tuesday's opening ceremonies reflected that desire on the part of the organization responsible for the memorial's visit.
The veterans shared the Miller Park gazabo with representatives from the city, school district, local religious leaders and the U.S. Postal Service.
Mayor Dave Anderson connected the memorial's visit with current events.
"We all witnessed great tragedies in the last month," he said. "That called us together as neighbors."
Community involvement didn't start or end with the opening services. Community service classes from De Soto and Mill Valley high schools helped install the wall Monday.
High school students will remain a large part of the visit. Students will perform during the daily opening ceremonies, serve as guides and man the tent that serves as visitors center.
Within the tent Tuesday morning, De Soto High junior Rachel Landers used a computer to find the location of names on the wall for visitors. The system's data base is equipped to help those without a name. Names can also be located by year of death, hometown and nicknames. Landers said that is important because many veteran only remember the nicknames of their dead comrades.
Landers said she will work at two-hour shift at the center before being replaced by another student.
"It's good to help the vets and help people find the names of those they are looking for," she said.
The wall will remain in De Soto through Sunday. It's visit was arranged De Soto Veterans of Foreign Wars Post 6654.
Daily opening ceremonies will continue at 9 a.m. Thursday, Friday and Saturday. Sunday is reserved as VFW family day
"We've had to make some adjustments on some of our military participants," he said. "People are being called to active duty or put in a state of readiness. We've had to keep our plans somewhat fluid."
More like this story