Woywods thankful to discontinue one tradition this holiday season
For the first time in years, Joe Woywod is looking forward to the holiday season with no trepidation.
From the living room of his new home in southeast De Soto, Joe explained he and his wife, Anita, had come to associate the holidays with the attacks of pancreatitis that inexplicably visited him around Christmas.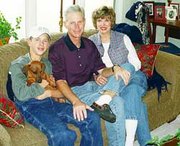 "For a time, I teased Anita it (the attacks) was because I was tired from shopping," Joe said. "I would get so sick I would have to go to the hospital for what they call a cooling off period. The only thing they could do is keep me in bed and put me on morphine."
The attacks were potentially life threatening. According to the National Pancreas Foundation homepage, pancreatitis has a 10 percent mortality rate.
Last January, Joe's surgeon suggested a new procedure that removes the pancreas. After researching his options, Joe decided to have the operation at the renowned Mayo Clinic in Rochester, Minn.
"The KU Med Center had only done four," he said. "That's the reason we went up there. They have a little more history."
The pancreas has two jobs. It secrets digestive juices and produces insulin. Without his pancreas, Joe would become a diabetic.
But whatever misgivings Joe had about the procedure vanished with a discovery by the Mayo staff.
"They found a tumor," he said. "Fortunately, it was benign. It would have became malignant if it hadn't been removed."
Anita explained tumors in the fibrous tissue of the pancreas spread rapidly through that and other nearby organs. Pancreatic cancer in the fifth-leading killer among cancers, taking about 25,000 Americans annually.
Joe has already fought through one cancer surgery. He was diagnosed with prostate cancer nine years ago.
"I was in my early 40s. I was the youngest my surgeon had ever operated on. It came as quite a shock to both of us."
"All three of us," Anita interjected.
For his latest surgery in early April, Joe took nine weeks off his job as senior vice president of sales and underwriting for United Missouri Bank.
His 13year-old son, Matt, jokes that his father's hardest struggle during his recovery was not being able to play golf."Actually, Joe said he was on the links in six weeks, although he concedes he might not have been "in full swing."
Joe said he is adapting well to life as a diabetic. He gives himself four insulin injections every day and checks his blood sugar regularly.
"The attacks were so painful, I'd much rather live with the shots five times a day," he said. "I'm kind of a blessed man. I have three great children and a wonderful wife."
Anita said it will be a special Thanksgiving after a long year. She, Joe, Matt, daughters Kelly, 24, and Laurie, 21, can enjoy the comforts of the family's new home without the apprehensions that used to come with the holiday season.
"It's been an eventful year. We have so much to be thankful for," Anita said. "My only problem this year is making a pumpkin pie without sugar. I think I've found a recipe."