Steppin' up and steppin' out
At least once a week, Doc and Bruties is filled with people picking their way through more than pizza or barbecue.
From 6:30 p.m. until 9 p.m. every Wednesday, musicians gather for an open jam session at the local restaurant. Here, guitar, banjo, violin and bass players are all welcome to join in and play along selections for the evening.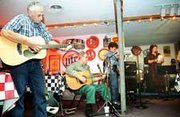 The jam session started when Garry and Mark Bichelmeyer of Tonganoxie started playing together in their hometown. Their association with Doc and Bruties started when the local grocery expanded into their practice space. Their tunes first entertained at the Doc and Bruties restaurant in Basehor and proved widely popular.
"Every Wednesday night, it got to be too many people," Bichelmeyer said.
So, Bichelmeyer and his wife, Mary, were given the option of bringing the show to De Soto. Bichelmeyer said the larger space allowed more entertainers to participate.
"If somebody likes to play, I like to see them go ahead and be able to do it," he said.
Playing bluegrass, country-western and even the blues, the musicians tear through one song after another. Occasionally, those in the crowd are moved enough to grab a dance partner, turning the restaurant into a makeshift mini-opry as waitresses dodge dancing couples to serve food.
Between songs last Wednesday, an audience member joked about how much a banjo would fetch in an impromptu auction. Violinist Richard Blanton had another idea.
"I won't bid on a banjo, but are you auctioning off some wire cutters?" he asked.
The sessions have no shortage of participants. B.D. "Doc" Kunc, 67, makes the trip from Lawrence most Wednesdays to play along with his contemporaries and enjoy the fun. Kunc said he has played guitar for 35 years.
"I just enjoy picking and grinning," he said. "A lot of good musicians comes out (of) here, and I enjoy the camaraderie."
Many in the group are older than 35 years old, but that doesn't mean the players wouldn't welcome fresh blood. George Carson, who has been playing since he was 14, said he would like to see some new faces join in.
"We need some younger people, too," said the 77-year-old guitarist from Tonganoxie.
Charmaine Truelove, a 39-year-old guitar player, said she started playing when she was 9. Truelove said Doc and Bruties offered a great place to play. She said that anyone else who wanted to participate would feel the same.
"I love it," she said. "I come here every week if I can."
More like this story