Mill Valley leaves big mark on Kaw Valley League fall sports
In just its second year of existence Mill Valley High School's sports program left its mark on the Kaw Valley League in 2001.
Eight Jaguars earned first-team Kaw Valley honors in three fall sports and 16 others earned either second-team or honorable mention in their respective sports. The league honors were voted on and handed out by the KVL coaches on Thursday, Nov. 1.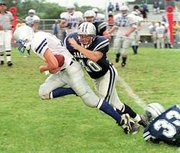 The Mill Valley football team had the most first-team honors with three players being selected to the first team. Senior Dustin Stinnett was tabbed as an all-Kaw Valley offensive and defensive lineman and senior Travis Chavez and junior Eric Pingleton were also defensive picks.
Junior running back Max Woods was the only offensive players selected to the second team, and Brandon Smith, Nick Sterner, Alex Dermann, John Goodin and David Woods were all given honorable mention on offense. Brandon Simpson was also selected to the second team for his play in the kicking game.
Goodin also found himself earning honors on the defensive side of the ball when he was tabbed a second-team all-defensive selection for his play at linebacker. Joining Goodin on the second team was senior defensive back Tim Herbel.
Brandon Smith, Matt Mauzey, David Woods and Josh Hammond were also all given honorable mention honors on defense.
Mill Valley coach George Radell said that the all-league honors showed what kind of team and what kind of players Mill Valley High School has.
"I want what they want," Radell said. "It's great to see some of these guys get post-season honors, and I'm happy for them. We definitely push our kids when it comes to post-season honors and I know for a fact that we wouldn't push a kid who didn't represent the good character, hard work and dedication that Mill Valley stands for.
"All of these athletes are great representatives of our school."
The Mill Valley soccer team also had three players selected to the KVL's first-team. Seniors Bryan Smith and Mark Pierce were selected for offense and senior sweeper Brandon Simpson was a defensive selection.
The Jags also landed five players on the honorable mention list for soccer offensive players Tommy Fitzgerald and Josh Pingleton, defender John Rieke, goalie Blake Hardwick and utility player Aaron Gladfelder.
David Beach's volleyball team was also fairly well represented, as three Jaguar volleyball players earned post-season honors.
Junior Ellie Gundelfinger was picked to the KVL's first-team for her dominating play at the net. Gundelfinger was just one of six girls picked to the first team.
Senior Brooke Woolery and junior Kelli Wilbur were also honored by the KVL as honorable mention selections.
More like this story