Standing on Starside Elementary's roof last Thursday afternoon, Principal Paula Hill asked a class of fourth-graders on recess what they wanted.
"Water balloons, water balloons, water balloons," the students chanted.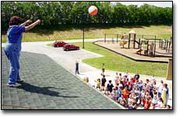 Not one to disappoint her students, Hill started pelting them with small water balloons from her rooftop vantage point.
The students put their principal on the roof for the day by reading more than a million minutes this school year.
"I think this is pretty cool because we get a chance to laugh at our principal," said fourth-grader Justin Nelson. "It's neat she's such a good sport and will do this for us."
Starside students topped the million-minute mark in March. To keep the students reading, Hill sweetened the incentive by promising the students ice cream if they read another 200,000 minutes through the end of April.
Another incentive was added that assured Hill's office didn't go unoccupied during her rooftop stay. The student with the most minutes would be principal for the day.
That honor was earned by fourth-grader Amber White, who has logged an amazing 34,357 minutes (nearly 24 days) of reading since school started.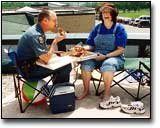 "Everybody asks why I read so much," she said. "I tell them it's because of my dad. When I was young, he used to read to me all the time."
Amber said she and her dad, Kevin White, now share books, especially the popular Harry Potter series.
"He saw how much I liked them, so he started reading them, too," she said. "He reads them, and we talk about them."
Amber doesn't think her reading habits are that much different than those of her Starside classmates. She just had more opportunity, she explained.
"I was sick a bunch, so I would sit around and read all day," she said.
From reports that reached the rooftop, Hill said the school appeared to be in good hands.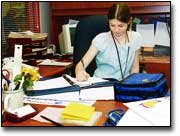 "I did hear she gave the music teacher a budget increase," the principal said. "But, she turned down a request from several classes to go to McDonalds. It sounds to me like she's running a tight ship."
Amber said she found the job of a principal "a lot harder work than it seems like it would be." She collected the teachers' daily grade reports, made announcements and monitored lunch hours, among other duties, Amber said.
A leather folder stuffed with work lay unopened near Hill's rooftop deck chair. The principal said it was proof that the day on the roof didn't go as anticipated.
"I brought work up here, but . . ," she said. "It was worth it because of what the kids accomplished. "