Young, talented and motivated
The future looks bright for Greg Francis and De Soto High School sports
Two years of high school, three sports and five positions. That's the life of De Soto High School sophomore Greg Francis.
Francis said he enjoys playing football, basketball and baseball and each of his coaches brings something different to the overall atmosphere of the teams.
Francis is currently the top pitcher in the Wildcat's rotation. He has 13 strikeouts in his last two start,s against Perry-Lecompton and Lansing. He also plays shortstop and contributes offensively for De Soto.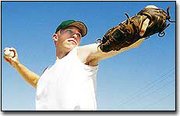 Francis would like to see this year's young Wildcats team advance beyond the first round of regionals.
"I enjoy coming out and playing baseball," Francis said. "Coach Runyon has a lot of expertise for the game of baseball."
In the fall, Francis will once again compete on the gridiron for De Soto. He said that football is the sport that he has been extremely focused on. Francis will play quarterback and free safety for the Wildcats.
"Football is so exciting with all the adrenaline building up," Francis said. " I like Coach Scott's passing offense; it is a lot more exciting."
Francis spends the season between football and baseball on the hardwood floors of KVL basketball gymnasiums. Francis, a forward, is one of the main contributors on a young but talented Wildcat basketball team.
"It is a quick paced game and Coach Generally has such a positive attitude and desire to win," Francis said.
Generally had equally impressive things to say about Francis.
"As a sophomore, he started on varsity. He's just an exceptional student athlete. He made basketball as intense as it was," the coach said. "It's pretty rare for a sophomore to show up and work every practice at the level he did."
Generally said Francis has gotten a lot of attention, but he might not receive all of the credit he deserves.
"A lot of people get stuck saying, 'he's a natural athlete'. They think people like him don't have to work at it," he said. "Greg Francis has made himself a great athlete."
Francis said although it is a challenge balancing all three sports, he has wanted to compete for De Soto High School for a long time.
"Ever since I was little, I was always watching sports," he said.
Francis watched his brother, Ken, a 1999 De Soto graduate and current Emporia State University student, play baseball and basketball for the Wildcats. While spending part of his childhood in Illinois, Francis cited strikeout king Nolan Ryan, Michael Jordan and Walter Payton as his favorite athletes.
As both a younger member and a leader of several athletic teams, Francis said there is a mutual respect between him and the senior members of each team. Francis said he expects the Mill Valley rivalry to intensify as he enters his junior and senior seasons.
"It's always going to be a good rivalry. Like Coach Runyon said, it is like playing against your brother," Francis said. "You want to beat them even more."
While he still has plenty of time before his college years, Francis has been thinking about a possible major.
"I like working with computers and would like to study computer design at a big school like KU or K-State," he said.