Lady Wildcats brave the weather but fall to Basehor-Linwood
Not only did the rain dampen the day last Thursday, it ruined a chance for a Wildcat victory.
The Lady Wildcats softball team braved the wet mess, only to fall to Basehor-Linwood, 7-0, 1-0. De Soto (0-12) nearly pulled out the win in the nightcap, but a two-out seventh-inning rally came up short, keeping the game scoreless. Basehor-Linwood (14-2) eventually broke the 0-0 tie in the bottom of the seventh to earn the sweep.
Openings to break the tie came for both sides, but all chances were squandered until the bottom of the seventh. De Soto stranded two runners in the second, third and seventh innings, unable to score on Basehor-Linwood junior pitcher Courtney Reed.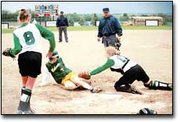 "I thought we had a chance of getting this one," De Soto head coach Glenda Williams said. "We had runners on but we just couldn't move them around."
De Soto senior Shannon Bunce led off the third with a double, then after a strikeout, she moved to third on a fielder's choice. After a hit by pitch, a groundout to Reed left Bunce abandoned 90 feet away.
De Soto made a last stab in the seventh with two outs when junior Chelsea Salyer received a free pass.
Junior Kala Glass followed with an infield hit to move Salyer into scoring position. Reed then got Bunce to ground out to end the inning.
Lady Bobcat senior Stephanie Larson opened the seventh with a single, then pinch runner Terra Nichols stole second. After a fly-out, the Bobcats loaded the bases on a pair of fielding errors. Instead of opting for an easy force at first, the Wildcats became preoccupied in throwing out Nichols, who advanced to third on a fielder's choice.
"It's just the mental errors at the end," Williams said. "Instead of getting a sure out, we tried to get the lead runner. It's just inexperience."
Basehor-Linwood junior Cristin Burnett hit a ball back to the mound, but the throw home went over the catcher's head, allowing the eventual winning run.
In the opener, the Bobcats pounced on the visiting Wildcats early with a two-run first inning, courtesy of a pair of passed balls. Basehor-Linwood added four runs in the fourth to add to the Wildcats' woes.
Reed shut down De Soto offensively, allowing two hits and fanning 13. The Wildcats placed three base runners, none of which reached second base.
The doubleheader had a brief interruption with a 25-minute rain delay during the opening game.
Basehor-Linwood led 7-0 in the bottom of the sixth when the rain arrived, water was scooped out of the batter's box and gravel was placed on the mound to renew the twinbill.