De Soto woman celebrates Mother's Day for the 72nd time
Merle Bradley isn't sure what she's going to do on Mother's Day. The 93-year-old De Soto resident is just going to wait and see what happens.
"I know I'll go to church, but I don't know if any of my children will come to see me or not," she said. "They usually don't tell me what they're planning."
Regardless of what she does, Bradley has a lot to celebrate.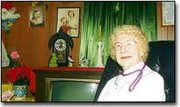 She's been a mother for the past 72 years. She has six children, 20 grandchildren, 41 great-grandchildren and 16 great-great-grandchildren.
"I'm sure I have more grandchildren than just about anyone," she said.
She and her husband, James R. Bradley, raised their children on the move, making it difficult for them to establish any lasting relationships outside the family.
"My family is important to me. We moved around because my husband worked construction and we would be one place for six months, then move on to the next place," she said. "That made it hard for the children to settle in anywhere . It was hard for them to meet new kids."
The family finally did find a permanent home in De Soto.
"We settled here in 1942 and every one of my children graduated from De Soto High School," she said.
Being a mother was something Bradley said just came natural to her.
"You just really didn't think about it," she said. "It was awful busy at times, but we always managed to get through it."
It also helped that Bradley can't remember being sick a day in her life.
"I've never had so much as an allergy," she said.
Her daughter, De Lois Brasel said that might be the most impressive thing she remembers about her mother.
"All of us kids have had some kind of surgery or something over the years, but she has always been so healthy," Brasel said.
Bradley attributes her good health to her upbringing.
"I grew up on a farm in the country, in Washington County, Kansas," she said. "I worked hard on the farm. I grew up more like a boy than a girl really. I guess that's why I always enjoyed outdoor work more than indoor work. I'd rather work in the yard than cook and clean."
Her lack of desire didn't affect the quality of her cooking, Brasel said.
"I just remember her wonderful cooking. I used to love that," she said. "She always took good care of us and was a great mom."
As Mother's Day approaches, Bradley said, she couldn't help but feel a little sad.
"I have children and grandchildren scattered all over the country, so I don't get to see them as much as I would like to," she said. "I'd do it all again. I'd like to start over. Maybe I thought it was hard then, but when you're alone, you realize how much you miss it and how short a time it was."
Bradley has lived alone since her husband died in 1987. On Christmas of that year, she wrote a poem about her life, which she said was a tribute to her family.
From the Heart
By Merle Bradley
As I sit here tonight in my warm Kansas home
Remembering the times when I was not alone
Counting the blessings of those I hold dear
Knowing they love me, I've nothing to fear
I thank the dear Lord for a long useful life
And I tried hard to be a good mother and wife
So this Christmas I'll treasure the memories I've known
And send love to my children, even though far they may roam
As sure as I'm here with good health I am blessed
For many of my good friends have been laid to rest
Be sure that your happiness lasts through the years
I have joy in my heart, and in my eyes, I have tears
More like this story