Celebration gets bigger and better
Late Saturday afternoon Tony Valenzuela took a break from his duties at this year's De Soto Cinco de Mayo Festival to enjoy a plate of tostadas and a bottle of Jarritos orange drink.
"It's a pretty good crowd," he said. "With the dancers and different things, I think we actually see a few more people."
The chairman of the Cinco de Mayo Committee, Felix Briseno, estimated 1,000 people attended the second annual festival at the De Soto Community Center.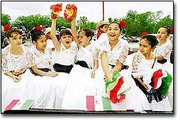 "It was bigger and better than last year," she said. "More kids were in the pi. Everything was bigger and better.
"I think everybody liked the Marching Cobras."
The African American drill team from Kansas City, Mo., marched in the parade and later performed in the Community Center. The second performance impressed Fabiola Diaz, who performed Mexican folk dances with a group of area teenagers.
The Bonner Springs girl said showcasing different cultures is what the festival is about.
"I like to dance," she said. "It's nice to show people what we can do."
Nearby, Urel Gonzalez was offering authentic Mexican cuisine to those raised on the food and those new to it.
"This is real, real Mexican-style tamales. Business has been O.K.," he said.
Stephanie Fawcett of Eudora attended the festival with her husband, John, and children Mason and Grace.
"My husband lived in Mexico for a few years," she said. "We wanted to see what it was all about."
John Fawcett said the festival and food received his approval.
Valenzuela, who organized the group of elementary and teenage folk dancers, said festival organizers can't rest on this year's success.
"We have to keep working to make it better every year," he said.