Softball teams back in action
Mill Valley team hopes to build on experience
As the new softball coach at Mill Valley, Patrick Sullivan not only feels the change of the new school, he feels the change of a new sport.
For the past two seasons, Sullivan has been the assistant baseball coach at DeSoto under current Mill Valley baseball coach Chad Garrett.
Now, Sullivan is in charge of the Lady Jaguars' softball squad, which he says has been interesting.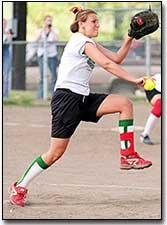 "It's been a total change," Sullivan said. "Obviously with the pitching, but the strategy is different with the runners. The short game is different with the bunting as well, but the girls have been a receptive audience."
Most of the Jaguars' roster is made up of key individuals who were instrumental in DeSoto's success last spring. The Wildcats, who finished up with a fourth-place showing at the Class 5A State Softball Tournament last year, ended the year with a 20-3 record and a perfect 6-0 season in the Kaw Valley League.
"We have some holes to fill more from the graduation than anything else," Sullivan said. "The top two pitchers have come this way. I would say that Mill Valley got a majority of the players that have more varsity experience."
Strength for the Lady Jaguars will be its pitching as three-year starter Ashley Perkins will be on the hill. Perkins, who won first-team KVL All-League honors with DeSoto, is planning on attending Washburn University next year.
Backing up Perkins is sophomore Tiffany Thurmond, who Sullivan calls another real solid pitcher. Thurmond saw some time on the varsity level last season when Perkins was injured.
Senior catcher Amy Siler will handle the other half of the Mill Valley battery at the plate. Siler has signed on to play at Mid America Nazarene.
Senior third baseman Kristi McClure and junior shortstop Brooke Woolery are penciled in on the left side of the infield. McClure will be joining Perkins at Washburn next year.
In the outfield, Sullivan will look to senior Shannon Keith and junior Jennifer Putney. Keith received second-team KVL All-League honors last spring.
Other strengths for Mill Valley include defensive fundamentals, which with the pitching aspect should carry the Jaguars throughout the season.
"We've stressed playing sound defense," Sullivan said. "We've worked hard to become a great defensive team. We should have some pop in our lineup as well."
That lineup will primarily feature right-handed batters. Sullivan noted that there is only one player who truly has the ability to hit left-handed. Along without having any left-handed hitting, the Jaguars will also be limited in speed.
"Speed is not one of our assets, so we're going to have to make up for it with our reaction time," Sullivan said. "We're not going to be stealing a lot of bases."
Mill Valley will face some fierce competition in the KVL with Basehor-Linwood, Santa Fe Trail and Piper. Non-league foes include Bonner Springs and St. Thomas Aquinas.
The Lady Jaguars will open up the 2001 season with a doubleheader against Atchison County Community on March 30. The twinbill, which will start at 4 p.m., will be played on the Johnson County Community College softball field.
More like this story