Neeland ready to grow with DeSoto
Duke Neeland remembers growing up in a DeSoto where the telephone operator doubled as the town's social secretary.
"We had four digits in our phone number no prefix. Our ring was a short and a long," he said. "You always talked to the operator. You'd give her the four-digit number, and she would know if they were home or not. I remember she would say, 'They're not home; they're over at the Smiths'. Do you want me to ring over there for you?' The telephone operator knew everything that was happening in town."
While he remembers the DeSoto of four decades ago fondly, the DeSoto city councilman and mayoral candidate said he realizes the city will change. He has embraced DeSoto's growing diversity by serving as president of the Cinco de Mayo celebration last year.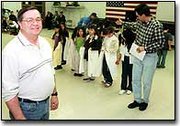 "You've got to know growth is going to happen and make it the best you can," he said.
Neeland left his hometown for a career in the Navy and raised to the rank of senior chief. When he returned to Johnson County, he moved to Olathe. Neeland said when his two sons and daughter were grown, he and his wife, Vicki Selzer, made their home in DeSoto.
"I moved back for me," he said. "I moved because I missed the hometown or small-town values.
"To me, I would say small-town values are knowing your neighbors and helping to look out for them."
As an elected official, Neeland said he has attempted to put that caring definition into policy by seeking ways to keep DeSoto affordable to all its citizens. He led the city council's recent effort to rebate the city's franchise tax on natural gas to seniors, the disabled and disadvantaged.
In a fast-growing city, policy can ease the burden on established homeowners and city utility customers by charging developers appropriate fees, Neeland said.
"It should be the developers and growth that pays for the infrastructure. It shouldn't be the citizens who have already paid for theirs," he said. "That is basically why I worked to put the excise tax in place. I was one of the authors of that and it's turned out very beneficial for DeSoto in the extension of roads, sidewalks and streetlights."
The city now needs to increase the fees for new connections to its water and sewer lines to ensure they cover present and future development costs, he said.
Much has been made during the campaign of the city's infrastructure need. The city is facing short-term and long-term solutions to its water demand, an upgrade to its wastewater treatment plant and street improvements.
While Neeland said the city should consider a more comprehensive approach, he said the city council has been active in preparing for the future.
"I don't think that we've been sitting on our hands," he said. "We've hired a full-time engineer, a full-time planning person. We've been working to update our ordinances and update our comprehensive plan.
"You need to look and make a guess as to what your future needs will be in five to 10 years. With a comprehensive plan you look at our future water needs and future waste-water routes."
The city has also laid the groundwork to solve its water demands through with the water treatment facility on the Sunflower Army Ammunition Plant.
"Looking at it dollar-wise and timeline-wise, I think our best bet is to rebuild and use those water rights," he said. "I understand figures are as low as $7 million to $7.5 million for a complete renovation of that facility. To build a new facility with the same capacity would cost up to $25 million.
"It's not centrally located now, but with the future growth of DeSoto and the way it is going, it may be pretty centralized."
That is especially true if Oz Entertainment Co.'s redevelopment plan for the Sunflower Army Ammunition Plant wins approval. While Neeland endorses the Oz plan, he said there is little the city can do under the process but make its support for the project known.
"I believe that's all we can do," he said. "It looks to me that it fits the county comprehensive land-use plan. It's been pretty well scrutinized, and I really don't see anything wrong with the project."
The joint DeSoto/Johnson County K-10 planning district will help protect the city from uncontrolled development when Sunflower is developed, Neeland said.
"We've got our planning commission along with the Johnson County Planning Commission will be involved in it," he said. "We just updated the standards of the overlay district, and it is real restrictive of what will be in there.
"I think we want to keep that area as beautiful as we can."
During the past two years, Huhtamaki Van Leer has located its North American headquarters in DeSoto and expanded its Sealright operation, Rehrig Pacific has opened a plastic pallet manufacturing plant, Mr. Goodcents started work on a new research facility and Intervet Inc. announced it would bring 170 new jobs to DeSoto with a planned research, production and distribution campus.
"We've attracted some outstanding industry to DeSoto," Neeland said. "I don't know if we could have done much better than what we've got. They seem to be high-tech, with good-paying jobs."
All the above industries were recruited with the help of tax abatements. The city council approved a 50-percent tax abatement standard last summer, which it then exceeded with the Mr. Goodcents and Intervet incentive packages. Neeland, who voted in favor of both abatements, said he did so because he believes incentive requests should be considered on a case-by-case basis. He pointed out the city still earns revenue on a 75-percent abatement.
"A little piece of pie is better than none at all," he said. "Twenty-five percent is still a positive.
"I don't feel there should be a line drawn at 50 percent that every business that comes in should be eligible for a 50 percent abatement. Then again, I don't know that it should be restricted to 50 percent. I feel it should be based on the cost/benefit analysis of how many dollars we get back for every dollar we invest."
In the case of Intervet, the company agreed to plat 35 acres of the 300 acres it owns in southwest DeSoto. The platting will earn enough revenue from the city's excise tax to more than pay for the extension of roads and utilities that the city is providing, he said.
In return for the abatement, Intervet offers DeSoto a clean, quiet operation that brings 170 new jobs starting at $40,000 annually.
Last year, the city council brought another business into DeSoto when it annexed Hunt Midwest Mining Inc.'s Sunflower Quarry. Neeland said city residents recognize the action was in their best interest.
"If you added up all the complaints from people who wrote or called in, there were only 22 people who expressed concern over the annexation," he said. "There were only six to seven actual citizens of DeSoto who expressed concern.
"It is going to be a big benefit to the city of DeSoto. It is going to lower everyone's taxes."
As mayor, Neeland said he would pursue the detachment of that part of Johnson County Rural Fire District No. 3 within the city. The county commission rejected the city's detachment request last year.
"I feel our response times are much better," he said. "I think the organization as a whole is much better than what the fire district's is at this time.
The candidate said he would also work to improve DeSoto emergency preparedness.
"The Johnson County Emergency Management Plan's number four objective is to foster interest in a coordinated approach to disaster preparedness on a neighborhood level using existing community-based programs," he said. "Right now, I don't think we have a program."
For all that he wants to accomplish, Neeland said one of his biggest goals is a change in perception.
"In four years DeSoto will be known to be part of Johnson County," he said. "I kind of think there are a lot of people who aren't sure what county we're in.
"The way growth is happening, I think the county will be proud DeSoto is a part the county."