Gene Marshall had a bad night Saturday.
The radio-controlled planes he was flying in the DeSoto Community Center kept crashing.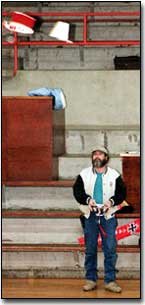 "I got distracted," Marshall said as he retrieved the two-foot plane from its crash site in the gym's bleachers. "You have to be quick in here."
The plane shuddered like a dying moth as the Overland Park man picked it up a sign that the motor that powered the lite-stick plane survived. A quick inspection revealed the propeller was broken. Because Marshall didn't have a spare, the plane was finished for the night.
But the man one of his fellow enthusiasts called the "patriarch" of the Kansas City area radio-controlled flyers wasn't finished. In addition to the lite-stick plane, he brought an IFO, short for Indoor Flying Objects.
Lite-stick planes reveal their origins from earlier rubber-band powered planes. IFOs are a radical departure. Shaped somewhat like a poplar leaf two-foot in diameter, IFOs consist of little more than plastic stretched over a carbon fiber frame.
The two types of planes didn't have the gym to themselves. Among the more exotic aircraft flying about Saturday was a replica of the B-2 bomber and a helicopter.
All the planes have electric motors powered by light-weight battery packs.
"Indoor flying is the fastest-growing segment of the hobby," said local enthusiasts Randy Reiss.
Electric planes don't cause the noise pollution gas-powered planes do, are more affordable, Reiss said. An kit, motor and radio control can be purchased for $200, he said. Gas-powered planes require an investment of $800.
Larger electric planes can be flown from the backyard, while gas-powered planes require a trip to more remote areas, Reiss said. Smaller indoor planes can be flown outside only on very calm days.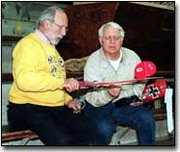 During the winter months, enthusiasts from throughout the metropolitan area rented the community center about twice a month to fly their planes, Reiss said. He invited those with an interest in the hobby to call him at 585-1916.
The indoor flying season is about over, Reiss said. Most of the enthusiasts have larger, gas-powered planes as well, and will start flying outdoors once the weather improves.
Enough hobbyists showed up last Saturday to crowd the airspace in the community center. IFOs and lite-sticks circled the basketball court as thickly as Mayflies around a porch light.
As he was putting his IFO through fancy somersaults and rolls, Marshall crashed into the plane of a Lawrence man.
Such accidents aren't rare in the confined space, Marshall said.
"We generally have two or three a night," he said. "There's some damage, but nothing's been completely obliterated."
More like this story