Anderson offers long-term vision
Dave Anderson said serving in leadership positions at the Redeemer Lutheran Church in Olathe taught him a valuable lesson is leadership.
"You try to corral a volunteer organization like a church and you learn you have to work with people," he said. "Balancing that with running my company when your lifeblood depends on how you react to people all that has given me the character I have now."
Anderson would like to apply a fresh leadership style to the city of DeSoto. He said he is not running for mayor out of a desire to manage the city's day-to-day operation. His interest is in providing leadership on policy direction for the next 10 to 15 years.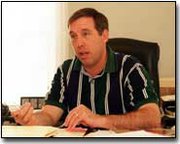 For example, the city hires and trains staff to run the water plant, Anderson said. He expects them to be accountable for its operation.
His focus would be on the big issues of future needs, how the water treatment plant at the Sunflower Army Ammunition Plant fits into those needs and the basic question of whether DeSoto should be in the water business for its residents or outside customers.
The answers to those questions need to be found in a process that involves the community through public forums, Anderson said.
"I do know there is a facility (at Sunflower) that could be a revenue generator, but don't blind yourself to the fact that it comes with a great expense. Now the big focus is do we spend money and get into the water business.
"That's where the public forums start. I don't want to be the expert. As a group, let's decide if that's where we want to put our energy or our resources. That's what I would do as mayor."
While Anderson declined to be the sole professional arbitrator of the Sunflower water treatment plant's worth, he acknowledged he would bring some professional expertise to the job. After growing up in the small central Illinois town of Morton, Anderson received a bachelor's of science in mathematics from Western Illinois University and followed up with a bachelor's of science in civil engineering from the University of Illinois.
After college, Anderson took a job with a company that designed banks. He was transferred a number of times before he and his wife, Sue, landed in the Kansas City area.
"It's a lot bigger than Morton, but Kansas City reminded us a lot just the sunsets of Illinois," he said.
The couple's attraction to the metropolitan area and desire to settle down with the birth of the first of their four daughters was such that Anderson declined another transfer request from his employer. Instead, he founded the construction firm CPM Corp. with a nowdeceased partner 18 years ago.
The Andersons relocated to DeSoto's Oak Grove Estates in 1986 at the suggestion of a friend.
"I bought the lot we now live on as a Mother's Day present for Sue," he said. "It's a great place to live."
His engineering and business background has taught him that problems can be solved through planning, Anderson said. It is time for DeSoto to be "reactive" to its infrastructure needs, and to take a more visionary approach, he said.
DeSoto needs to develop a long-term infrastructure plan that includes a schedule of needed improvements, he said. A critical part of that plan would be a dedicated revenue stream from expected excise tax money and increased tap fees on new construction water and sewer connections, he said.
"There is a tendency if you have a dollar in your pocket to spend on a whim," he said. "That's where a budget and planning comes into play. You have to be rigid in that approach."
Again, Anderson said the capital improvement plan should be developed through a process that includes public forums and community involvement.
Planning should also play a part in how the city pursues economic development, Anderson said. The city needs to identify new light-industrial property in its comprehensive land-use plan and then start planning to bring infrastructure to sites in its capital improvement plans.
Although Anderson said he wasn't opposed to abatements, the tax breaks should be balanced by what the city is offering and the attractiveness of the location to businesses.
"If a business is looking at DeSoto, I think it's easier to minimize the abatements when you go to them and say, 'We have this already in place. That takes money. If you impact our sewer, water and roads, then you need to pay for it. Otherwise, you're not a very good corporate citizen.'
"I firmly believe companies are moving to improve their attraction to customers. If we have rail and we have water, sewer and roads that are accessible to these companies and we have a work force and a pleasant environment and a great school system, why do we have to give taxes away?"
DeSoto could enhance its recruitment position further by matching its future land-use and capital improvement plans with a study that identifies industries that fit with what the city offers and desires, Anderson said. If, for example, the city remains in the water business and adds capacity, it would make sense to target industries that would be a large water customer, he said.
"You're window dressing yourself to attract the companies you want," he said. "You know this is the perfect spot for them, and they do too. You lay the groundwork for where you have to give up less."
Infrastructure discussion has dominated much of this spring's city election debate, but Anderson said the disposal of Sunflower is the biggest issue in DeSoto's future.
"Our participation in that now is zero," said Anderson, who has maintained a neutral stance on Oz Entertainment Co.'s redevelopment plan for Sunflower.
The federal government's disposal process and state legislation on the redevelopment of Sunflower has left out DeSoto. Anderson said the joint DeSoto/Johnson County K-10 planning district gives the city a possible entry into the discussion.
"All we have to do is extend its boundaries to include Sunflower," he said. "That could be accomplished in a short amount of time. It's already in place.
"That would allow us the input I think we need to have."
Throughout the campaign, Anderson has said the city needs to foster better relations with neighboring cities, the county, rural districts and the school district. He has vowed to meet regularly with officials of those entities.
The same gesture toward the federal government, state and county could produce an agreement on the DeSoto's future at the Sunflower water plant, which is now in limbo with the Oz plan.
Anderson said he is convinced DeSoto has the talent that, if harnessed, can meet the challenges the city faces.
"We have tremendous opportunities here," he said. "What I've found out during this campaign is there are a lot of good-hearted people who seriously love this town some of these people live in areas that are not yet part of the city.
"They have strong opinions on what should be done. But they have never been rallied by anyone in leadership. People are just asking for leadership that will get those ideas out in the open."
More like this story