MVHS

Jaguars ready for first season
Familiar coaches are connected with familiar players, yet the pair are featured at a new school facing a fresh new crop of competition.
Confused yet?
Carl Garrett, head coach at DeSoto for the past seven years, now takes over managing duties at Mill Valley. Garrett will manage players that played a key role in DeSoto's 12-10 season last year, but coaching against former teammates poses a unique situation.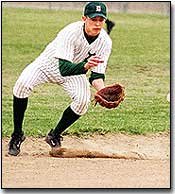 "I think it's extremely tough," Garrett said. "For me, you get a bond with those kids. You know who they are and that's not enjoyable. When you go to compete against them, it's tough to go out and battle and compete. When time passes, it will become easier."
After the split of Mill Valley and DeSoto high schools, both dropped to Class 4A. No longer battling against 5A competition, the new Jaguars will have a different post-season experience come regional time.
Regionals will be hosted this year by Bishop Ward during the week of May 14-19. The host Cyclones, who finished runner-up at the Class 4A State Tournament last year, and two-time defending Kaw Valley League champion Piper are just two teams that will be in the regional.
"Competition has totally changed on the 4A level," said Garrett. "You get thrown in that regional there and (Bishop Ward) is a team that's contending for a state championship."
Other schools paired in the regional are Basehor-Linwood, DeSoto, Piper, Sumner Academy and Lansing.
Attempting to get into the swing of things, the Jaguars have only had about a week's worth of practices in a two-week period before spring break.
"We had a pretty good run for about five or six practices in a row," Garrett said. "When the weather gets like it has been, you share the gym with softball and track. It's tough to get enough swings in."
Pitching has been a strength in the DeSoto program, and Garrett said it will remain so in the new program.
"We have quite a few different guys, seven or eight, who will be fighting for different spots in the rotation," Garrett said.
Players to watch for at Mill Valley this spring will be seniors Cody Plummer, Joey Fitzgerald and junior Doug Antilla.
Plummer, who was a Kaw Valley League all-league second-team selection, has held down the leadoff spot for DeSoto the past three years. Garrett noted that the senior will see some utility work and can play anywhere on the field.
Antilla, slated to bat third in the lineup, earned KVL first-team honors for his infield play last spring. The junior primarily plays shortshop and first base. He also does some pitching.
Batting ahead of Antilla will be Fitzgerald, who plays infield and pitches. Fitzgerald was an honorable mention selection at infield along with Antilla.
"He'll play some first base for us and will be in the lineup somewhere," said Garrett. "He had a very strong season last year."
Other returning letterman playing for Mill Valley are seniors Kevin Cowick (1B/DH), Jonathen Eck (2B), Anthony Arnold (OF) and Lane Erickson (P); juniors Dustin Stinnett (P/C) and Matt Mauzey (3B/1B/P).
Garrett declined to make a prediction for the season.
"I have some good senior leadership that will be with us this year," Garrett said. "We'll need about three underclassmen to step up if we want to go far."