Hoops for Heart
LTMS

takes its best shot at fighting heart disease
Tyler Farmer said he had a special motivation for raising $135 in Lexington Trails Middle School's annual Hoops for Hearts fund drive.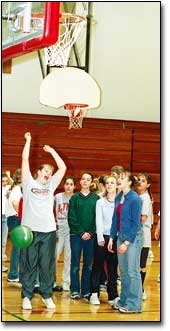 "My dad (Rod) had a quadruple bypass," the sixth-grader said. "He's only 49. I did this for my dad and others, so they will have a better chance of living."
Farmer's fellow students at Lexington Trails take the American Heart Association's annual Hoops for Hearts fund drive seriously.
The last few years, of the participating middle schools in Kansas, only two or three much larger middle schools have raised more money than the local students.
Physical education teacher Susan Slater, who heads up the drive, said this year appears to have been equally successful.
This year, sixth-graders raised $1,862, seventh-graders $1,078 and eighth-graders $1,180. Slater said the total of $4,120 would be close to the impressive numbers the school has racked up in the past.
"I really think the reason this school is so successful is we do personalize it," she said, adding she tells student of her own experience to motivate them. "My dad died of a heart attack when he was 51 years old. A year later, my mother had a heart attack and needed a quadruple bypass."
Slater said most students could relate to the ravages of heart disease.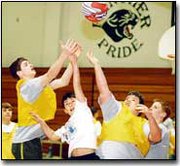 "I asked one of my classes how many knew someone who had a stroke or heart attack," she said. "All these hands went up. I asked how many didn't know someone who had a stroke or heart attack. Three hands went up."
And the students learned they and their peers are not immune to cardiovascular problems.
"An estimated 144,000 cardiovascular operations are performed annually on children 15 years old and younger," she said.
Last Thursday was reward day. Grade levels were released from class during different periods to play basketball. Slater said the activity is good for the cardiovascular system and helps build the spirit needed to make the fund-raiser successful.
"I think having an activity throughout the whole school helps tremendously," she said.