Census reflects rapid growth, rise in Hispanic population
Felix Briseno might be the poster child of DeSoto's population growth during the past decade.
Briseno, an Hispanic woman who moved to DeSoto in 1997, illustrates the two eye-catching statistics in the DeSoto population figures the U.S. Census Bureau released last week the city's remarkable growth and the increase of its Hispanic population.
One of those statistics is deceiving; the other is not.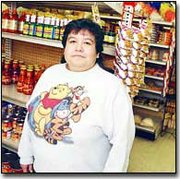 According to the latest census, DeSoto's population grew from 2,291 in 1990 to 4,561 in 2000. Annexations in 1998 of Clearview City and five square miles of surrounding territory contributed to that 99-percent increase, but it is unclear how much.
According to its rental office, about 550 residents live in the Clearview City apartments. Mayor Steve Prudden estimated the city might have gained 150 to 200 from other annexations. Considering township census figures don't include those living in incorporated areas and that Lexington Township's population declined by 563 in the last 10 years despite new development, Prudden's estimate appears close.
"That's pretty good growth," the mayor said. "There's a lot going on."
DeSoto Economic Development Director Marge Morse said the census figures prove what she already knew that DeSoto is an attractive place to live.
"I'm impressed we're growing at that pace," she said. "It's a positive note to be aggressive and growing. I'd much rather be growing than losing population."
More growth is coming, Morse said. Work is to start this spring on the 80-home Timber Trails Subdivision, which its developers plan to complete in two years. Two different developers want to build senior apartments here, and one of those developers is also interesting in constructing a 48-unit multi-family housing unit.
Another recent development that will boost population growth is Intervet Inc.'s announcement that it is locating a regional production and distribution campus in DeSoto that will bring 170 new jobs, Morse said.
Dean Palos, principal planner for the Johnson County Planning Department, said the county is growing faster than professional forecasters predicted. Four years ago, the Mid-American Regional Council predicted the county's population would be 446,092 in 2000. The census found it to be 451,056, a 27-percent increase from 1990 when its population was 355,054.
For the past 20 years, the county has been adding 9,000 to 10,000 annually, Palos said. It appears the trend will continue, he said.
DeSoto's percentage increase outpaced that of other fast-growing county cities but its experience was not unique. During the 1990s, Olathe's population grew from 63,352 to 92,962, Overland Park increased from 111,790 to 149,080, Shawnee grew from 37,793 to 47,996 and Lenexa expanded from 34,034 to 40,238.
"Johnson County is the driving force in the growth of the state of Kansas," Palos said.
The county's growth translates into increased political clout in Topeka. Rep. John Ballou said the county's legislative delegation will grow by five new Kansas House districts and 1.5 new Senate seats when the Legislature redraws district maps next year. The county's gain will come at the expense of those areas in the state that lost population or grew at a slower rate.
Redistricting could also mean Ballou will no longer represent DeSoto. The Gardner Republican said his district will have "to lose" 8,000 people. The House district of Ray Cox, R-Bonner Springs, will have to shrink by nearly 12,000 people. Much of the growth in Cox's district has been in Johnson County along Kansas Highways 7 and 10.
"I think you'll see a new district where my and Ray's district join and west along K-10," Ballou said.
The other noticeable statistic in the census figures in the growth of county's minority, particularly Hispanic, population, Palos said.
"The complexion of the county is changing," he said. The county's Hispanic population grew from 7,005 in 1990 to 17,957 in 2000.
DeSoto's Hispanic population grew from five residents in 1990 to 308 in 2000. That represents 6.9 percent of its total population and 13.35 percent of the city's growth over the past decade.
Briseno opened Felix International Market last fall to cater to the growing Hispanic population in DeSoto and the area.
"I have customers from Olathe, Gardner, Tonganoxie everywhere," she said.
Briseno might illustrate some of DeSoto's growth in the 1990s, but her entrepreneurship sets her apart. Morse said business hasn't yet followed the new rooftops to DeSoto.
"We don't want to be mainly a bedroom community," she said. "We have to get industrial and commercial development in here."
The coming of Intervet and other businesses on 91st Street will help, Morse said. Other businesses will locate here when DeSoto's population reaches thresholds established by large retailers, she said.
In 10 years, Morse said DeSoto's population could be at the 10,000 level large hardware chains demand.
"I get calls all the time from people wanting to move here," she said. "The only problem is there isn't any place for them. The only thing holding us back is infrastructure. Once we get that straightened out, we'll really take off.
More like this story