Starside Elementary students take on fishy assignment
Elyzabeth Navarre's Starside Elementary first-graders got to see, touch and smell a bit of the ocean Tuesday.
For about two hours after lunch, the students inspected salmon heads, octopuses, lobsters and other species donated by the Lawrence Dillons stores.
But before the eager students went to their tables, Navarre reviewed what they had learned during their study of ocean life over the past weeks and what would be expected of them.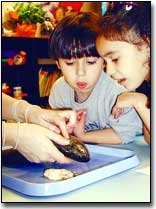 The students were to write a one-sentence description and draw a picture of the specimen before them, Navarre said.
"You have to think of it like a science project," Navarre told the students. "The sentence will be boring if you don't. Use colorful wording, because that's what a scientist would do."
The sentence, "Fish can be fun," that immediately popped into Max Ralston's mind was probably not what Navarre wanted, but it certainly expressed the enthusiasm in the room.
Most of the students weren't squeamish when it came to examining the samples.
"I'm ready to touch," Ricardo Pinedo said as he rushed to a table with a trout on a tray. He and Vivana Amparam ran their fingers the length of the fish's side.
Her first-graders study each animal kingdom during the year. Navarre said the students always have fun studying marine life.
"The children really enjoy the fish because they don't see them," she said. "Most of the kids have never gone to the ocean. About half have never been fishing."
That wasn't the case for Kara Askey, who said she has been to the ocean several times. She has even tasted lobster like the one in front of her.
"I love that," she said.
At the end of the exercise, the students tasted a number of different seafood, including caviar.
The marine life gave the classroom a definite ocean ambience and perhaps the students became most familiar with the samples through the sense of smell.
Navarre said the odor was enough to make other teachers avoid her door, but the students accepted it with only a few remarks.
"Can somebody turn on the air conditioner?" Askey asked.